All of us indeed want to flaunt a radiant and well-contoured face while stepping out every time. However, fine lines and wrinkles can hinder the way your face looks. To keep those signs of stress at bay, it is important to have the best face massager in your beauty closet to achieve a flawless look. Facial massagers are designed to do more than soothe the effects of everyday stress on your face.
Right from enhancing the facial skin's ability to draw in lotions or serums to helping in lymphatic drainage, there are loads of reasons to invest in a battery-operated device or a jade roller. Choosing the right facial massager will help in keeping your skin cool, and calm those overworked facial muscles while preventing the energy blocks in the body. We have put together a list of the 10 best face massager machines to guide you towards the best ones in the beauty market to achieve a naturally glowing face.
Our Top Picks:
| | |
| --- | --- |
| Best Overall | Caresmith |
| Best Budget | Inditradition |
| Most Relaxing | EGJQI |
| Best Features | AGARO |
 Top 10 Face Massager Machines
These face massagers, considered to be the best face massager machine in the market today are designed to improve blood circulation, reduce wrinkles and dark circles around the eyes, and promote glowing skin. Most of them use advanced technology such as vibration, low-level electrical stimulation, sonic pulsations, and heating elements to help relax facial muscles and restore a youthful complexion. Below, we have compiled a list of the highly-rated face massagers, based on reviews and user feedback. Read further.
Last update was on: March 28, 2023 3:39 pm
Best Face Massager Machines
Caresmith Facial Cleansing Massager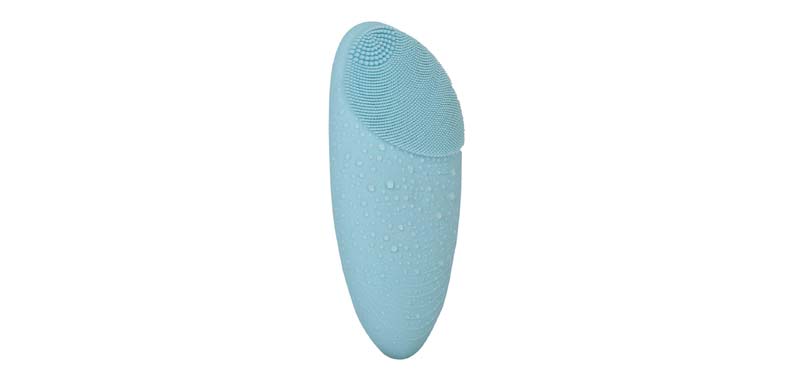 The facial cleansing face massager by Caresmith is one of the best facial massagers on the market today. This soft silicone face massager comes with a palm-sized design and has a 2-zone hypoallergenic brush to suit every skin type
This compact facial cleansing massager requires a couple of seconds to remove oil, dirt, and impurities from your skin to reduce pores and helps in better absorption of serums or lotions
It is equipped with the advanced Sonic Pulsation technology to produce 7000 pulsations with high frequency to eliminate dead cells and keep it supple
This washable facial massage machine can deliver up to 200 uses with one charge and works for over 300 minutes
Its super soft bristles work on par with the transdermal vibrations to offer an excellent massage experience
Lafillette 3D Facial Roller Massager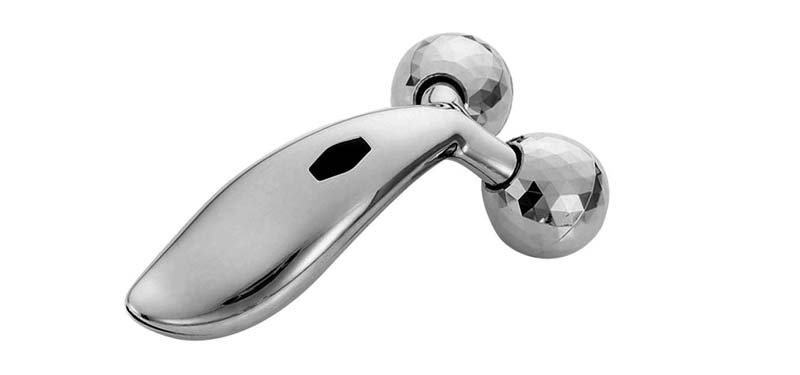 This 3D facial roller massager by Lafillette is a perfect choice to get a natural face-lift by promoting skin elasticity, promotes blood circulation while alleviating tension
Equipped with the latest kneading technology, this 70-degree 3D massager can deliver spa-like massage by relieving sensitivity, contours and tightens the skin
This massage roller flaunts a 360-degree rotating design and follows a V-shaped kneading technology to assure a relaxed massage time
The dual drainage beads of this roller flaunt exquisite craftsmanship featuring a diamond surface to slide through the skin easily while kneading any part of your body
The curvy S-shaped handle aids in multidirectional rolling and removes the toxins from the skin
Lifelong Rechargeable Face Massager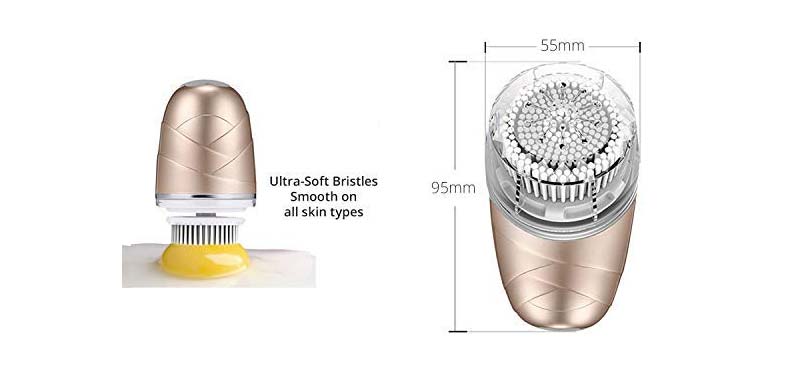 Lifelong's rechargeable facial massage machine is a powerful tool that can perform gentle massage with 360-degree rotation action to make your skin feel cleansed, exfoliated, and relaxed
This device comes with three different attachments, which include a makeup removal head, fiber bristled head and deep cleansing brush head
This facial cleanser is built with IP7X waterproof material and has 2-speed settings to produce up to 450 rotations with mild vibrations for effective cleansing action
This pocket-sized device as a portable design and houses a powerful battery that reaches full charge in just 2 hours to operate non-stop for 45 minutes
Inditradition 5 in 1 Face Massager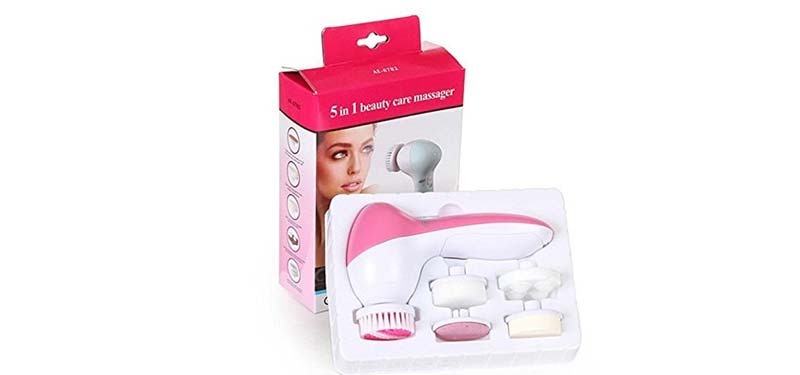 This 5-in-1 face massager by Inditradition is a multipurpose product that can massage, nourish, scrub, eliminate dirt and makeup, and exfoliate your face within a couple of minutes
The compact size of this facial massager in baby pink and white makes it easy to use while on the go and can fit in your vanity bag easily
The latex sponge head accessory helps your skin to soak up more creams and facial oils
The soft sponge massage attachment helps in eliminating traces of dust, grime, and makeup from the delicate areas of your face, such as the eyes
The crude polishing attachment remove the dry skin from the tough skin on the feet and elbows
DHYANEXA 3D Manual Roller for Face Lift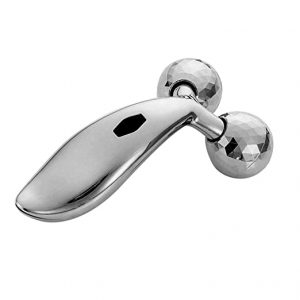 This 3D Manual Roller by Dhyanexa is an advanced facial treatment device that offers a deep massage on the surface of the skin.
The multi-directional rolling action of these innovative roller heads helps to lavish skin in an invigorating massage, targeting stagnant blood circulation while boosting collagen production and minimizing wrinkles.
The roller can help improve skin hydration levels and restore elasticity, giving you a more youthful and refreshed complexion.
The non-invasive technique used by the 3D Manual Roller helps reduce inflammation and redness while also promoting the healing of damaged skin cells.
The roller is light and portable, making it easy to take with you wherever you go.
R Runilex 3D Manual Roller Massager Face-lift Wrinkle Remover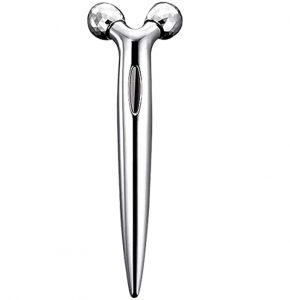 This face-lift wrinkle remover by R Runilex features a waterproof, highly innovative design that helps to tighten and firm the skin, promoting collagen production for a more youthful appearance.
This device works by gently rolling over the face and neck areas to stimulate circulation and boost lymphatic drainage, helping reduce wrinkles and other signs of aging.
It is made from high-quality materials, ensuring that it runs smoothly across the skin while providing gentle yet effective massage therapy.
The massager has a wide application, that can help you treat the face, neck, chin, and other areas with ease.
These manual features two adjustable speeds that can be set according to personal preference or needs in order to achieve the desired effects of smoother, firmer skin with reduced wrinkles and fine lines.
KPD Electric Vibration Energy Beauty Bar Facial Massage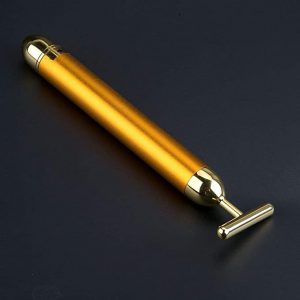 The electric face massager by KDP is an innovative beauty device that uses high-frequency vibrations to give your skin a deep massage and help reduce wrinkles, puffiness, and fine lines.
The device has an ergonomic design that is comfortable to hold and use on your face. With just a few minutes of use each day, you can get the same effects as spending hours at the spa or salon.
It helps promote smoother, firmer skin by improving blood circulation in your facial muscles, releasing tension and tightness in your muscles.
Its unique adjustable speed feature allows you to customize the intensity of the vibration depending on the area of use – from gentle settings for sensitive areas to stronger settings for thicker skin areas.
Comes with a T-shaped head that helps to add mild shaking to push and pat face skin on the therapeutic points.
The LED indicator light will tell you when it's time to charge the device, ensuring that you always have enough power available when you need it most.
EGJQI 5 In 1 Electric Face Massager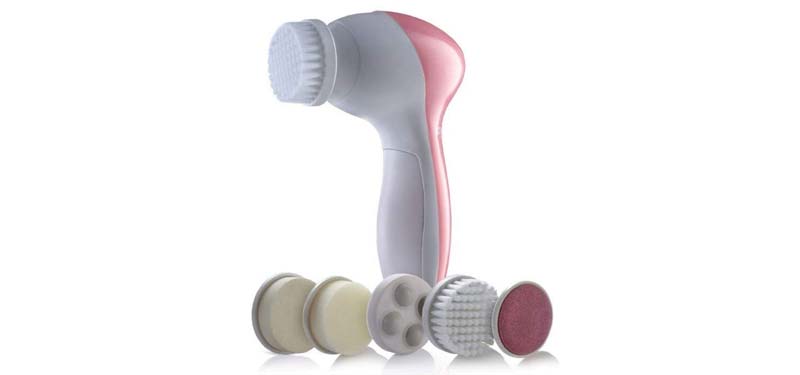 EGJQI's facial massager is a one-stop solution for all your skin woes ranging from clogged pores, pimples, rough pores, blackheads, and makeup residue
The compact facial cleanser flaunts an elegant look in white and pink supported by a sturdy handle and performs with 360-degree rotation
It comes with 5 unique attachments to cleanse, relax, hydrate, exfoliate, massage and knead those sore facial muscles to relieve signs of stress, anxiety and aging
The sponge head attachment cleanses the eyes and face to remove traces of makeup and grime while the ball massager kneads the skin to promote blood flow
This electric face massaging machine also has a brush cleanser head, soft sponge massage head, and sandpaper massager to remove the dead cells from the neck, face, feet, and elbow
AGARO CM2109 Sonic Facial Cleansing Massager
This sonic facial cleansing massager from AGARO is an effective, waterproof device that uses sonic pulsations to deeply cleanse pores and remove impurities.
This 3 in 1 cleansing massager has got 4 cleansing modes, including gentle vibration, intense vibration, gentle pulsation, and intense pulsation.
It also features a built-in timer that vibrates every 15 seconds, so you can keep track of how long you've been massaging your skin and ensure even cleansing.
Its soft bristles are designed to reach into hard-to-reach areas, making sure nothing but dirt gets left behind.
Its slim design makes it easy to use on all face shapes and sizes, as well as those on sensitive skin.
Once the device is fully charged for like 1.5 hours, it can last for up to 5 hours making sure your cleansing session will never be interrupted.
Finalize 3D Manual Roller Face Body Massager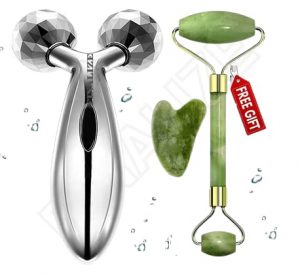 Innovative kneading technology combines with 360 degrees roller massage to offer deep tissue and relaxing massage that helps with face-lifting, skin tightening, and improved blood circulation.
This 100% jade roller stone offered by Finalize delivers soothing heat massage and healing energy to relax the tension and reduce wrinkles, fine lines, and puffiness around the eyes.
The ergonomic design of the roller can comfortably fit in your hand for targeted massage, ideal for the face, neck, arms, and other body areas.
Versatile two-directional rotating spinning motion will help increase absorption of moisturizers, serums, oils, or lotions for better skin care results.
Lightweight construction makes it easy to store or take on trips for portable use anytime, anywhere.
To conclude
From the latest electric-powered face massaging machines to the ancient jade stone rollers, we have considered them all while listing out the top face massager machines to buy in 2023. These beauty tools sure assure a relaxing massage experience and brighter and tighter skin but if you want something that requires less energy and quick results, you can go with the best face pack for your glowing skin. With consistent use, these beauty tools and products can help your face glow with highlighted cheekbones, blurred wrinkle lines, and tighter pores. Invest in the right products after considering your skin type to reap optimum benefits.
Keep glowing girl!
Things To Consider When Buying A Face Massager
Before purchasing a face massager, there are several important factors you need to consider to ensure that you choose the right one for your needs:
Type of face massager: There are several types of face massagers available, including jade rollers, gua sha tools, vibrating massagers, and more. Now you need to decide which type of massager would best suit your skin type and skincare concerns.
Skin type: It is essential to consider your skin type before purchasing a face massager. For example, if you have sensitive skin, you may want to opt for a gentler massager, while those with oily skin may benefit from a vibrating massager to help with deeper cleansing.
Features: There is a wide selection of face massagers that come with additional features such as heat, LED lights, or multiple heads for different areas of the face. You can choose the one that would be most beneficial to your skincare routine.
Brand and quality: As with any skincare tool, it is essential to choose a high-quality brand and product to ensure safety and effectiveness. Research different brands and read reviews before making a purchase.
Maintenance: It is important for you to consider the maintenance required for your chosen face massager. It's basically because some require batteries or charging, while others may need to be cleaned regularly.
FAQs
1. How often should I use a face massager machine?
It is recommended to use a face massager machine 2-3 times a week for best results.
2. Can a face massager machine help with reducing wrinkles and fine lines?
Yes, a face massager machine can help with reducing wrinkles and fine lines by promoting blood circulation and collagen production.
3. Is there a specific technique or direction to use when massaging my face with a massager machine?
Yes, you are recommended to use the massager machine with upward and outward strokes when massaging your face to promote lymphatic drainage and prevent sagging.
4. Are there any side effects to using a face massager machine regularly?
There are generally no side effects to using a face massager machine regularly, but it is recommended to follow the instructions and not overuse the device to prevent irritation or injury.