Germs enter your house through nearby dumpsters, passing-by garbage trucks or children getting dirty and entering the homes without cleaning themselves first. There are thousands of other sources of germs. So much so that it is impossible to live in a house that is germ-free.
As per a study by the University of Colorado, there are about 2000 species of fungi in a household. The most common breeding spots for the bacteria are the kitchen, bathroom, and laundry. Most germs also settle on items like light switches, your makeup bags, or doorknobs as they are touched more often.
When left unnoticed, harmful bacteria can lead to serious illness, infection, or even death.
Bacteria and fungi affect your lungs, throat, and urinary tract leading to hiccups in day to day functioning. "Infections" top the charts as the biggest cause of death in infants as per a report on OurWorldIndia.org. Not just the kids, nobody is safe from the risk of viruses and parasites in 2022.
Top 10 Disinfectants Sprays & Liquids in India for 2022 that you can Buy Now
Last update was on: May 5, 2022 6:59 pm
Best Disinfectant Sprays and Liquids
Savlon Surface Disinfectant Spray, For Hard & Soft Surfaces, 170g (230ml)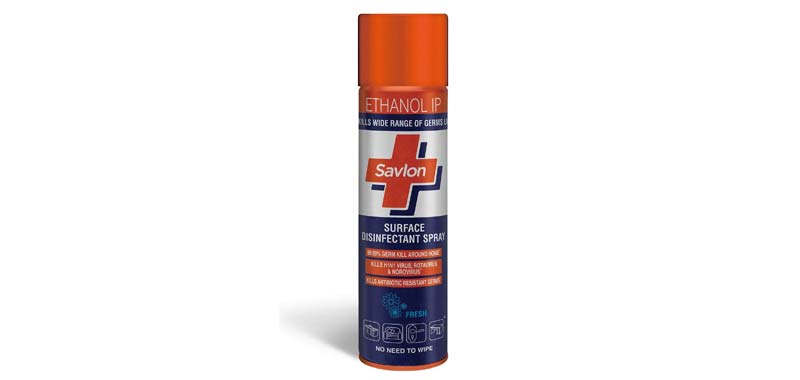 The Savlon Disinfectant Spray comes in a 230 ml handy bottle that is easy to use. Just spray the disinfectant using the can on the surface you need to clean and leave it to dry. You do not need to use any wipes or cloth afterwards.
The disinfectant kills bacteria, fungi, and other viruses off the surface. This Savlon's product is proven to kill germs causing H1N1 Virus, Rotavirus, and the Norovirus. With regular use of the spray, your house will be super hygienic and will smell good at all times.
It's easy to use the spray can.
Just shake it before use
Maintain a distance of about 15 to 20 cms from the surface
Continue to spray in nooks and corners until you've completed the entire area
It's easy to apply the Savlon Surface Disinfectant on kitchen counters, sink, sofas, and other furniture, curtains, carpets, kids' toys, keys or doorknobs. You can also clean the delivery package that you get through online orders by spraying the disinfectant on it so you do not touch any harmful germs that could have been travelling on the boxes.
Amazon ratings: 4.4 out of 5
Lifebuoy Antibacterial Germ Kill Spray (No Gas) – Safe on Skin, Safe on Surfaces, 75ml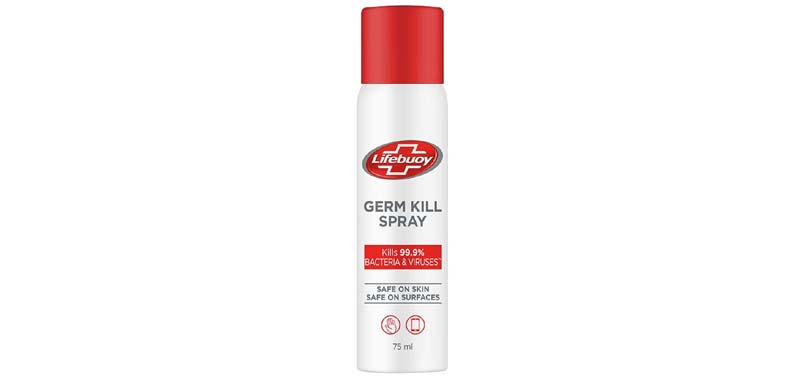 The Lifebuoy Antibacterial Germ Kill Spray was tested in a lab on representative organisms and the results found out that 99.9% of the bacteria were killed! This makes the product a super sanitizing spray that can get rid of all disease-causing bacteria that exist in your homes. However, avoid spraying this spray on brass or copper surfaces, acrylic plastics, and electrical devices. Do read the instruction at the back of the tin before your first use.
Many times we may sanitize our hands but will forget to sanitize the phones. So set a reminder to clean your phone and use the Lifebuoy spray to do it. Moreover, you can't miss the taps and other fittings in a bathroom. Constantly going in and out of the restroom can transfer the germs outside. Place a spray bottle right at the door so you can use it without forgetting.
Amazon ratings: 3,9 out of 5 stars
Dettol Disinfectant Cleaner for Home, Lime Fresh – 1L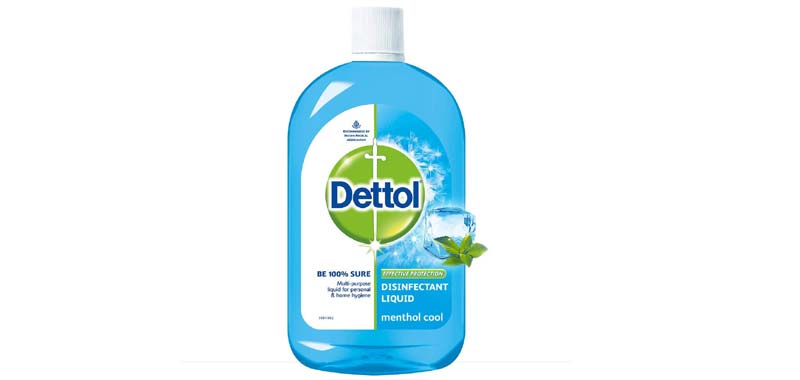 The Dettol cleaner is a liquid Disinfectant that comes in a 1L plastic bottle.
How to use a Dettol liquid disinfectant?
Simply add one cup of the disinfectant to one litre of water.
Mix it well. And there your cleaning solution is ready.
Now pull a mop and dip it in the Dettol cleaning solution.
Clean the floor with the mop and remove all the germs on the floor by yourself.
The disinfectant protects you from 100 illnesses causing germs. Moreover, it is recommended by the Indian Medical Association as all other Dettol products.
Even if the liquid comes in contact with your skin, that's alright, as the product is dermatologically tested and won't harm your skin.
But you can primarily use it on kitchen counters, mirrors in your room or the bath, and other places. The surface will release a pleasing lime smell later. Thus, you know you are making the right decision by buying a Dettol disinfectant.
Amazon rating: 4.5 out of 5
Dettol Disinfectant Liquid – 500ml (Menthol Cool)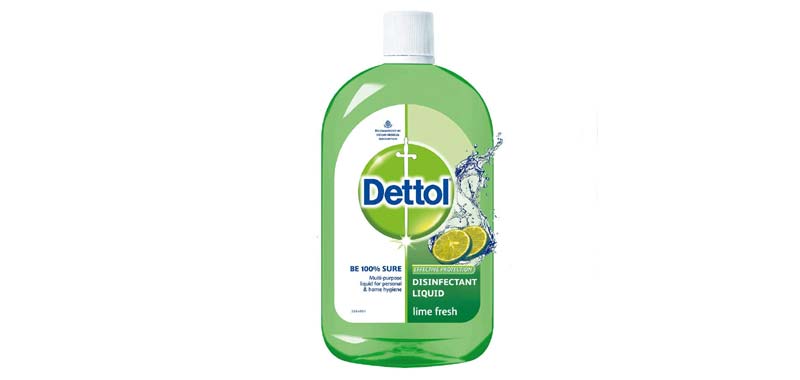 This Dettol liquid disinfectant is specially built for personal hygiene. Put 1 one 2 spoons in warm water and enjoy a relaxing bath. It disinfectants the water by killing the germs and keeps you away from diseases. The cool fragrance will make you never want to stop using it.
The liquid can also be used as after shaving or while washing clothes to clean germs off and add a fresh smell to it. It is washing machine friendly.
Amazon ratings: 4.5 out of 5 stars
Tri-Activ 70% Alcohol Based Disinfectant Spray for Multi-Surfaces – 230 ml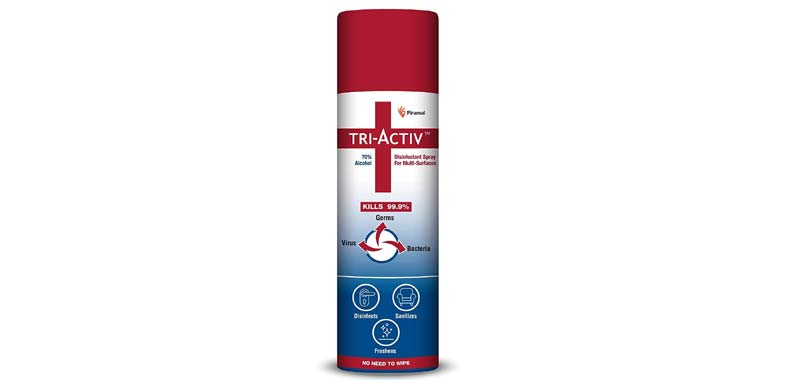 Try out this product by Tri Activ. The disinfectant provides triple protection against germs, bacteria and virus. All you have to do is buy one from Amazon, and spray it like any other spray tin.
Clean your closet, tabletops, parcels, and almost everything else in your house with the Tri-Active disinfectant. You will love the smell that it leaves behind. So no need for extra room fresheners too.
Alcohol is the main ingredient in many cleaning agents that disinfects the area they are sprayed on. It kills bacteria and germs. The 70% alcohol content in the Tri-Activ disinfectant is all you need in your house to feel bright and beautiful and every day.
Amazon rating: 4 out of 5
DABUR Sanitize Disinfectant Spray – Effectively usable on Hard & Soft Surfaces – 158 gm (215 ml)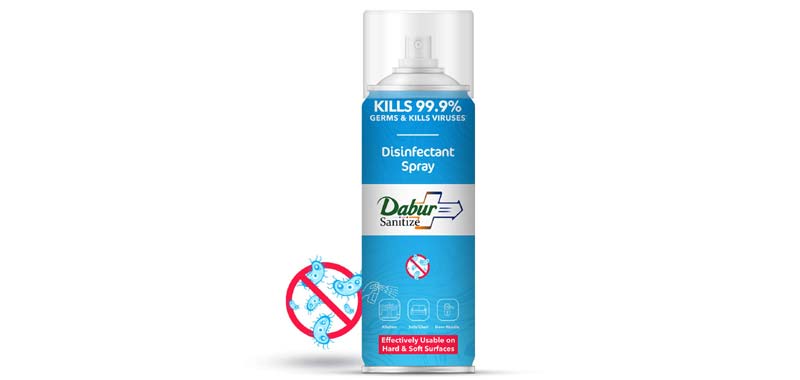 The spray kills germs from hard and soft surfaces both like doors, cupboards to sofas and cushions. Moreover, it removes the bad odour from the surface it is sprayed on and refreshes it.
Simply spray on the surface you want to clean and wait for 10 seconds. Spray from a distance of 15 to 20 cms for best results. Once the spray evaporates you can use the object/ touch it without any risk of harmful bacteria.
Amazon rating: 4.5 out of 5 stars
Nimwash Vegetable & Fruit Wash 1000 ml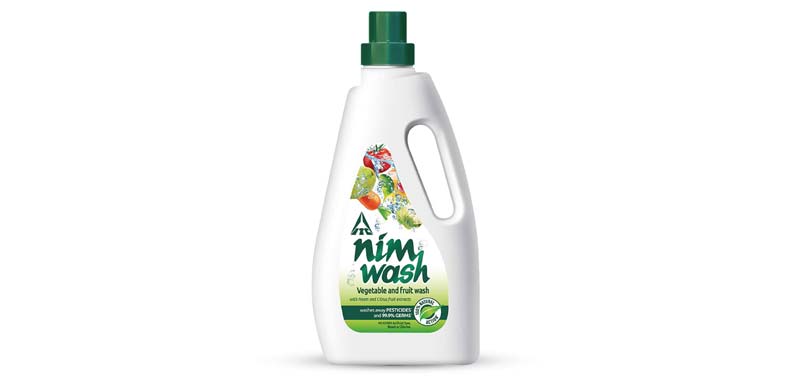 Got groceries from the market? Or just ordered them from an online store? These items you order touch a thousand hands before they reach you. Right from farms, to packaging, transportation, and retail, there are hundreds of men involved who may have touched the food you order. Fruits and vegetables are grown by adding pesticides on them. These chemicals can settle on the surface of the fruits or veggies and can cause nausea, respiratory diseases, or other illnesses when consumed.
You can kill these germs by using a fruit and vegetable wash.
Order a Nimwash bottle
Add half a cup of the solution in one litre water
Let the items soak in for 15 minutes.
Later, just rinse them
Nimwash vegetable and fruit wash are free from any type of artificial dyes, chlorine, chemicals or soap. It works on 100% natural formula and contains citrus fruit extract and neem that fights with the germs killing them in no time. You can see the difference in the fruit or vegetable right after you wash it with Nimwash fruit and vegetable wash.
Amazon rating: 4.3 out of 5 stars
Insurance Disinfectant Alcohol Based Spray 170g/240ml kills 99.9% Germs Pack of(4)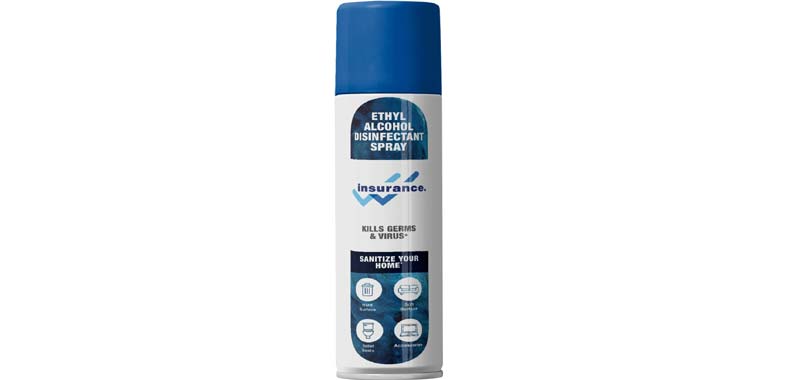 You never know when you'd need more than one disinfectant bottle. Thus, store a few bottles in the home depot so you can pull out one as soon as the old ones finish. No waiting for the order to arrive. And when you buy in bulk, you can also save on the price of the spray.
Insurance Disinfectant comes in a pack of 4 that can continue to kill the germs in your house for a longer period of time. Use it by shaking it first, and let it dry automatically. It kills 99.9% of germs from the surface it is sprayed on.
It acts as a sanitizer for soft surfaces and disinfectant for hard surfaces. In both cases, it kills germs and cleans the surface causing a fresh effect. Click on the below button to buy now and save more.
Amazon rating: 4.6 out of 5 stars
Bacto-V Gadget Disinfectant Spray with 99.7% Alcohol, No Water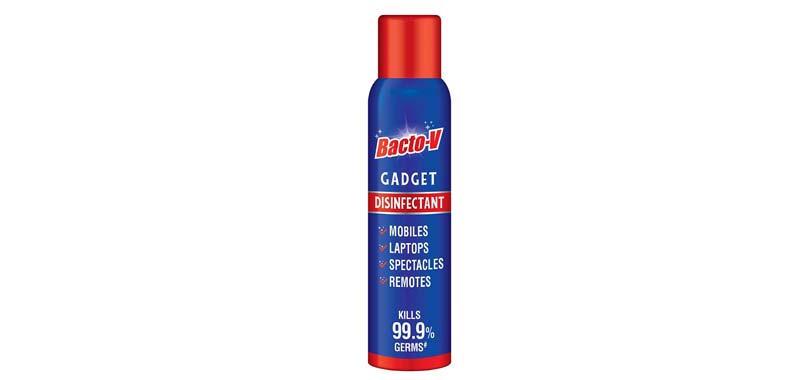 The Bacto-V gadget disinfectant is best for mobiles, remotes, spectacles, and laptops but can be used for any other electronic device you have at home like a DVD player, setup box, or the TV itself. It contains 0 water unlike normal sanitizers and disinfectants and thus will not harm your nonwaterproof gadgets. You can keep the bottle in your laptop or camera backpack and travel with it.
Amazon rating: 3.7 sars out of 5
Bacto-V Multi Surface Disinfectant Spray, 250ml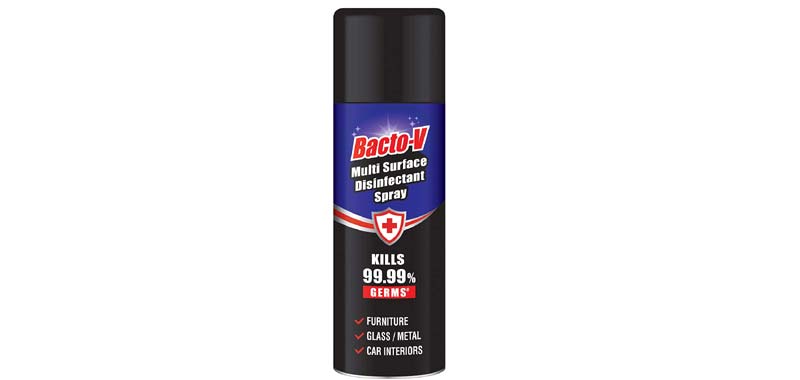 A multi-surface disinfectant spray and the last one in this list is another product from Bacto-V. The spray is good for using on surfaces. You can use it in your car interiors, doorknobs, glass surfaces, etc. It kills the germs with its high disinfectant formula and leaves the surface free from any bacteria and virus. Thus spray also works on metal surfaces. So if you are looking for something that can clean an aluminum phone back case or the other metal items in your house, this spray is for you.
Amazon rating: 4 out of 5 stars
Disinfectant Buying Guide
Solution to the Germ problem
In order to protect your household from the threat from these unseen microorganisms, investing in a good disinfectant is the first step you can take. Disinfectants kill the germs by 99.9% and also leaves the house looking shiny and nice. Some disinfectants are also proven to kill the deadly coronavirus and prevent it from spreading.
Which is the Best Disinfectant?
Considering there are ample of options present in the market, which disinfectant should you buy? Is a spray disinfectant better for you, or one in a liquid bottle? This article will answer all of these questions and will also help you learn about 10 different disinfectants that you can consider right away. So continue reading to know about the best sanitization options for your house and learn how you can stay healthy and feel fresh even during testing times.
How to decide between a liquid and a spray disinfectant?
Liquids are used for cleaning floors and larger surfaces. They are mixed in water to do so. They cannot be used for electronic devices or it will harm them. In such a case you must go for a spray disinfectant. Spray containers are also easy to use and thus can be sprayed on smaller surfaces to remove germ particles and turn them into new ones again.
Conclusion
The parasites in your home cannot be ignored.
Investing in a good sanitizing spray or liquid can get the job done. The items mentioned in the above list will sure satisfy your cleaning needs. They are easy to use and show the results in very little time. Suitable for today's age, aren't they?
So, no matter who you are, the safety of your house is your responsibility. Take the charge and order a disinfectant bottle today as when the health of your and family is at stake, there's no room for mistake.
Comment below and let us know if you ordered any of these items and how they worked for you. If you use a different spray, let us know which one it is – so we can cover them in our list of best disinfectants to use. Stay safe, stay healthy!