If you have decided to eat healthy this New Year to flaunt a great body, then make sure your diet includes lots of fresh juices. Juicing up fresh fruits and vegetables is a quick way to get more nutrients and vitamins in fluid form.
The cost-effective way to enjoy a glass of chilled goodness with customized veggies and fruits is to juice it at your home. If you think choosing the best juicer is a bit overwhelming, then we are here to guide you. Be it a centrifugal juicer, citrus juicer, manual juicer, or masticating juicer, and we have covered it all for you.
Top 10 Juicers In India for 2023
Finding the perfect juicer for your needs is rather daunting, with so many options available online. In this article, we've compiled a list of the best fruit juicers in India to help make your decision easier.
Farberware Portable Electric USB Juice Maker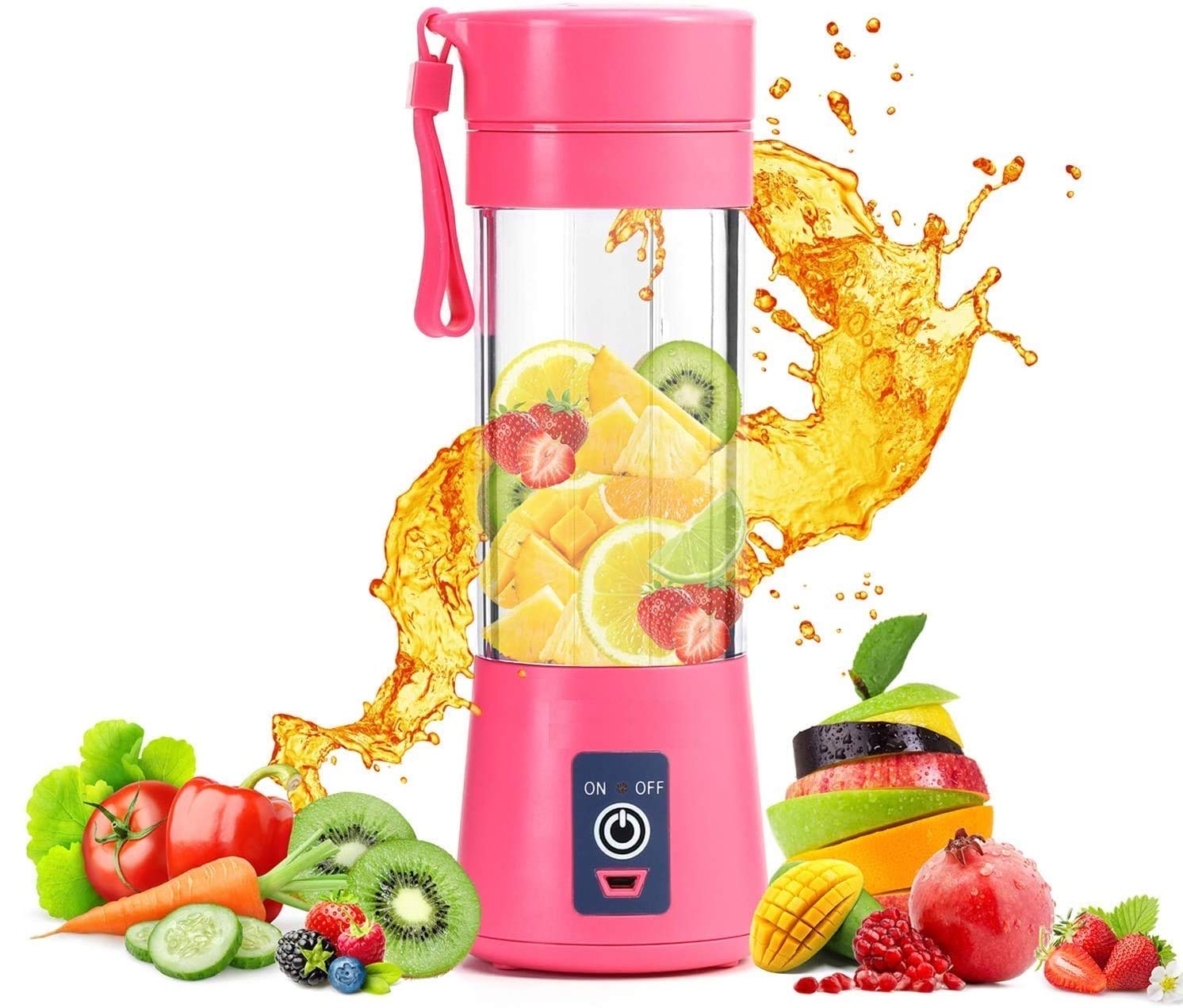 The Farberware Portable Electric USB Juice Maker is the one-stop solution for all your juice needs, from savory smoothies to refreshing protein shakes. It's designed with convenience and portability in mind – small enough to take with you when traveling but powerful enough to process whole fruits for a variety of juices and purees.
The juicer operates quickly, combining the most advanced technology with an easy-to-use design that makes it simple to assemble and disassemble. Plus, its multi-functional capabilities can be used to make anything from delicious milkshakes to baby food, making it a must-have for any kitchen!
Best Features:
Travel-friendly
Easily portable
Rechargeable and portable
Smart safety protection device
Magnetic sensing
Pros
Can be charged using a power bank, laptop, computer, car or other USB devices
The cleaning of the product is quite simple and accessible
Cons
Kuvings Professional Cold Press Juicer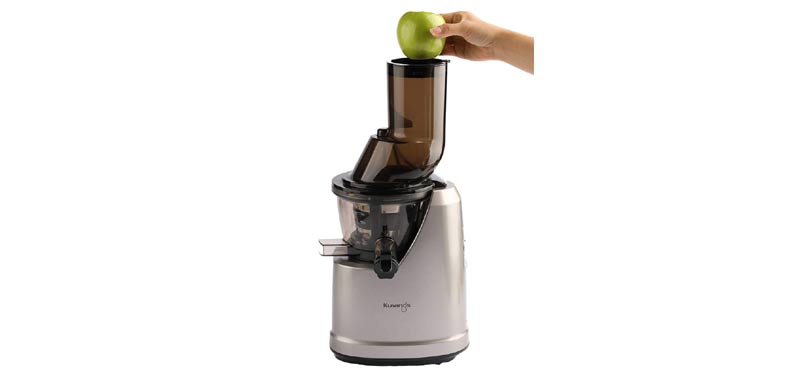 The award-winning Kuvings cold press juicer is a best-seller in the market and is equipped with a specific patented cleaning tool. Use this juicer to get fresh nut milk from almonds, green smoothies, and fruit juices. The BPA-free plastic body has a 76 mm patented mouth with a ULTEM auger to load the fruits or vegetables fully. The cleaning kit offered with this product has a regular brush, rotating cleaning brush, and user manual.
Best Features:
Noiseless operation with 40 to 50 dB
Actual nutrients and taste remains intact
Powered by a brushless motor of 240 W with 50 rpm
Juice bowl with 400 ml capacity
Drum and lid come with a safety lock system
Pros
Superior quality of the product
10 years warranty on the motor and 1-year warranty on the product
Has service centres across India
Cons
Tej juicer is difficult to clean
The Silicon can start chipping off after a few uses
Sujata Powermatic Plus 900 Watts Juicer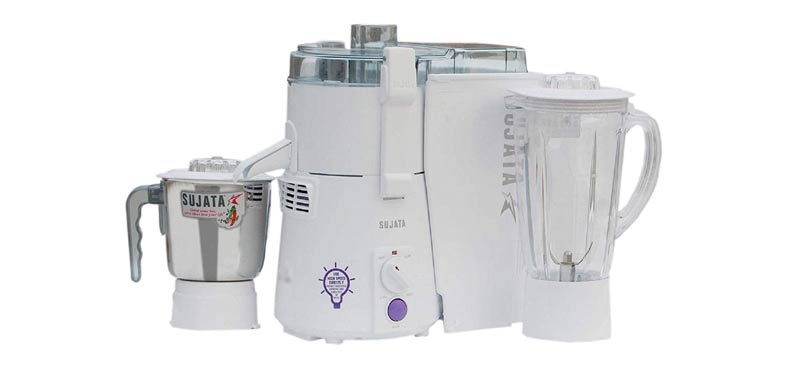 If you are on the lookout for a reliable kitchen companion with a sturdy body and safety features, then look no further than the Sujata Powermatic Plus Juicer. It has a shock-proof body with a compact design. The powerful 900W motor fitted with double ball bearings can operate at the rate of 22000 rpm and can run continuously for 90 minutes.
Best Features:
Comes with one-of-a-kind honeycomb filter mesh for better yield
Offered with a centrifugal juicer and a mixer jar
It has razor-sharp blades crafted from high-strength stainless steel
Rotary speed switch with 3 settings and a whipper button
Pros
The juicer has 1 year warranty
It required low maintenance
The product is shockproof
Cons
It is rather noise
It is difficult to clean
NutriPro Juicer Mixer Grinder – Smoothie Maker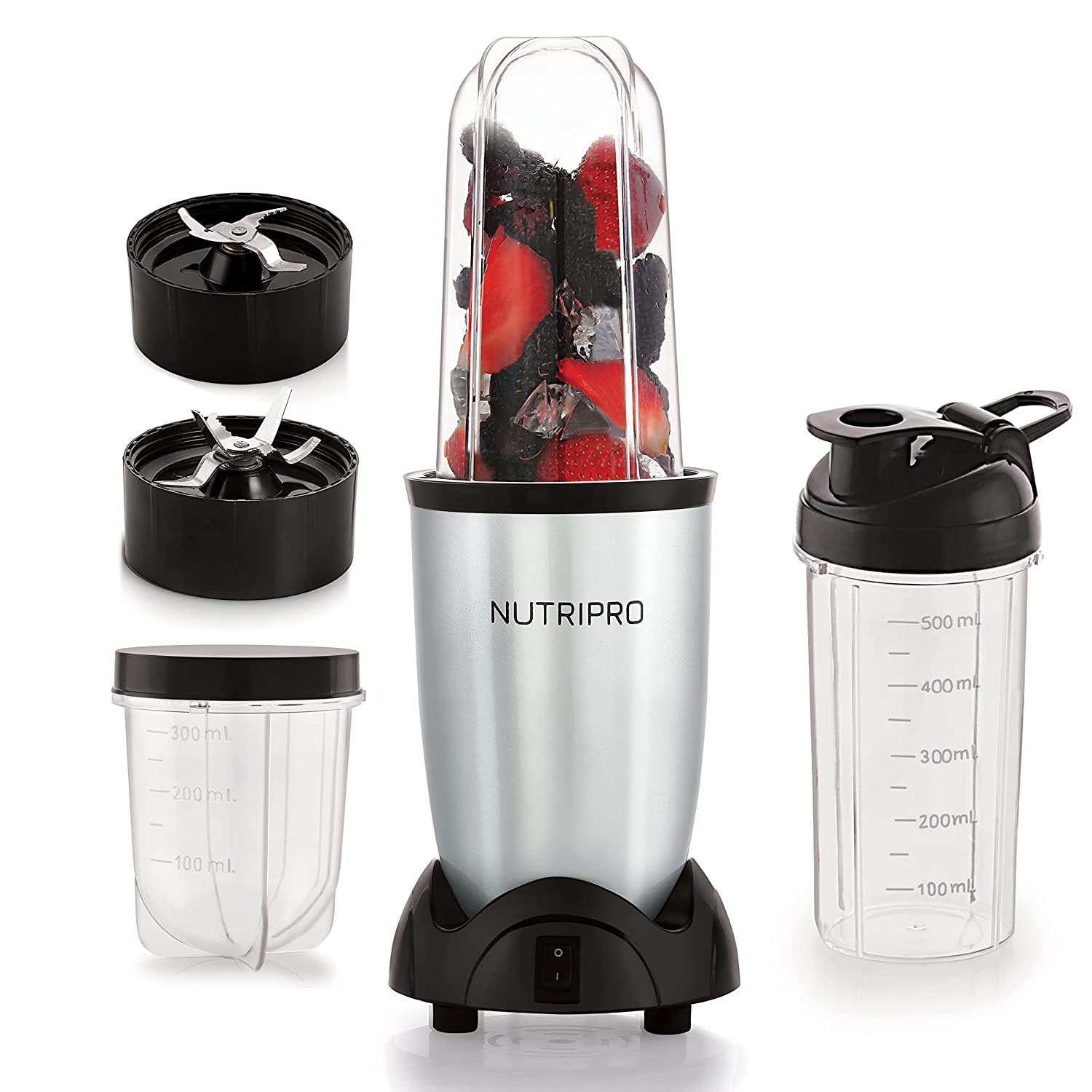 NutriPro's mixer is a powerful kitchen appliance that makes nutritious and delicious smoothies and juices with ease. It can grind and blend all types of food items like spices, herbs, nuts, vegetables, and fruits effortlessly.
The portable design makes it easy to store away when not in use while the three-jar design enables users to prepare multiple items at once. It can also be used for making chutneys, purees and dips with its durable stainless-steel blades.
Best Features:
Has a powerful 500 W copper motor
Accessible customer support
Two-speed modes
Pros
User-friendly design
Can be used for chopping, grinding and crushing
Cons
High price
Cleaning takes time
BTC Hand Press Juicer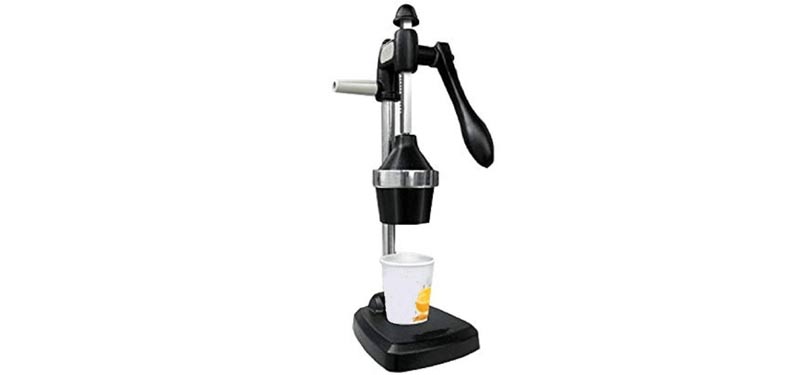 The brand BTC is known for manufacturing more than 500 products with sturdy materials that have made them win the Government state award. The hand press juicer from BTC is designed with food-grade material that assures excellent durability. Moreover, it is offered with an unconditional replacement warranty of 20 years, making it a trustable choice. It can extract the juice from fruits like pomegranate, lemon,  mosambi, and orange.
Best Features:
Tallest juicer in the Indian market
Supports manual operation
Simple hand-press mechanism
Heavyweight body of 4.5+ kgs
Has grip handle, pressure cap and strainer cup
Pros
It is easy to use, and clean
You get 1-year warranty on the product
Cons
The sieve is not effective
Philips Viva Collection 2-Litre Juicer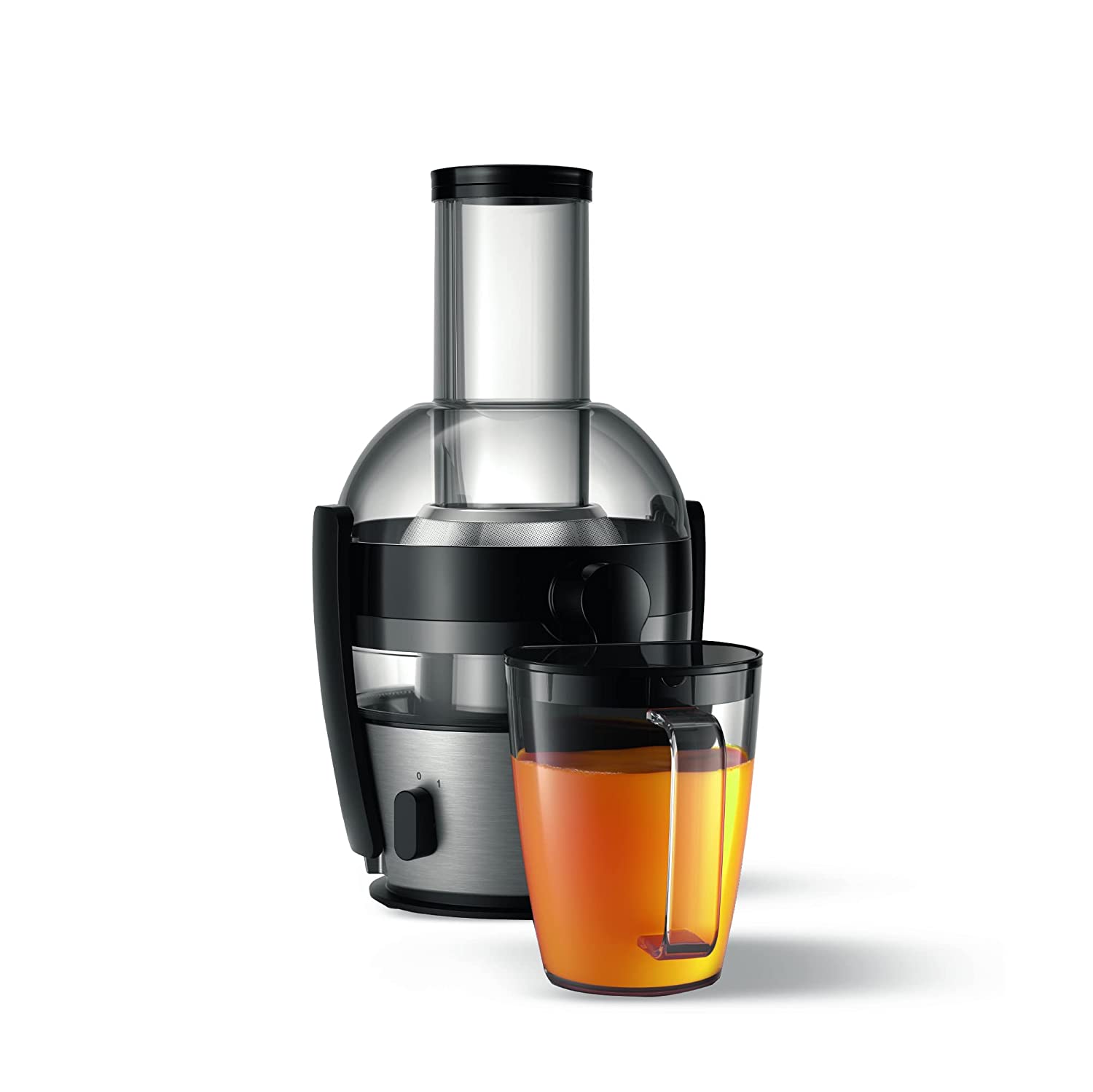 This 2-litre juicer by Philips, the Viva, is your kitchen companion for extracting the maximum amount of juice from fruits and vegetables. With its powerful centrifugal juicing technology, it can quickly juice up to 2L in one go without any need for installation.
It comes with an integrated pulp container which allows you to easily store any leftover pulp or skin. With this helpful feature, you don't have to worry about clogging up your sink or having a mess in your kitchen while making delicious juice.
Best Features:
Powerful 800 W motor
Pre-cleaning function
QuickClean technology
XL feeding tube
Pros
1-minute cleaning
Does not make a lot of noise
Cons
Hestia Appliances Nutri-Max Cold Press Juicer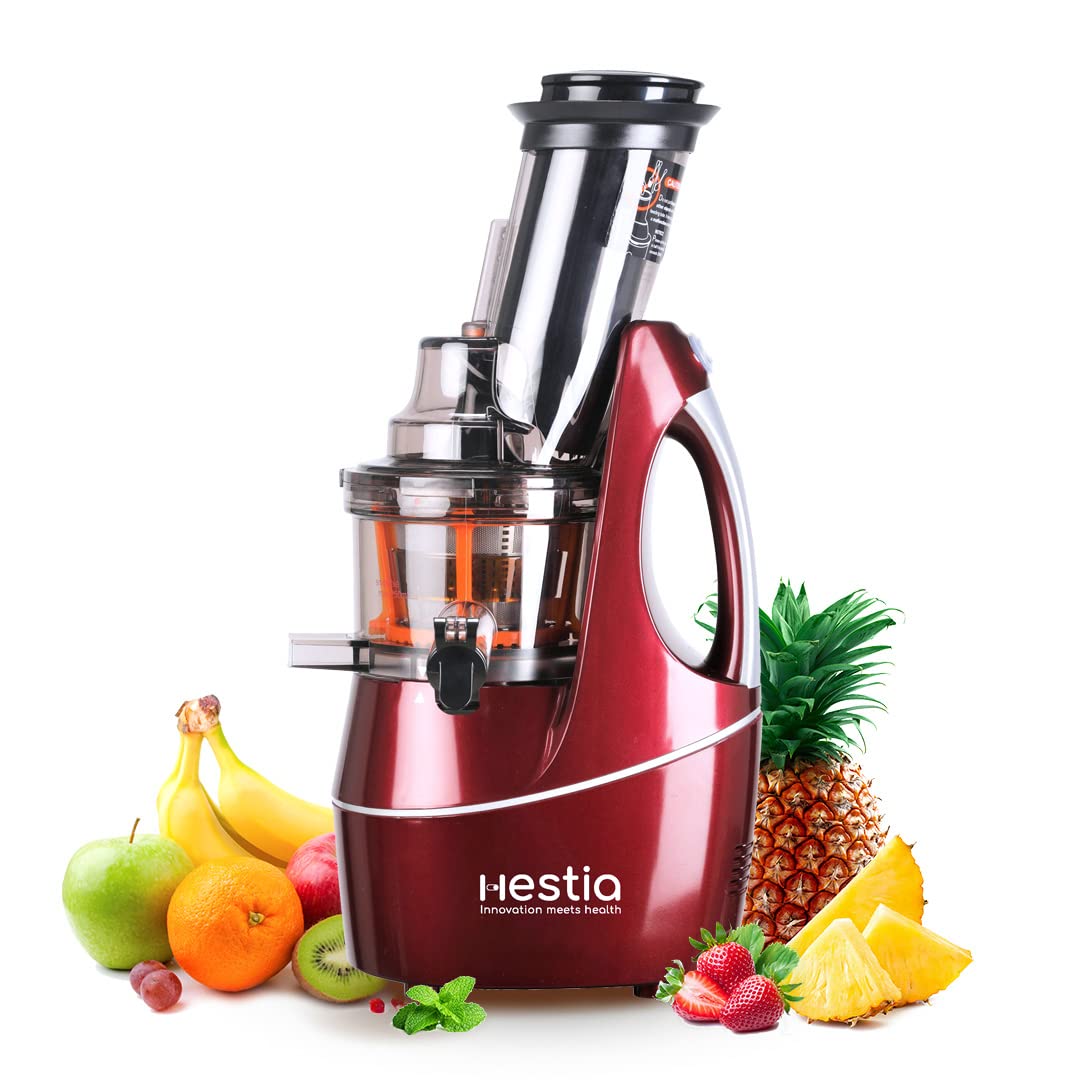 Hestia Appliances offers some of the best juicers in the world. The Nutri-Max Cold Press Juicer is one of the best rated product, and is designed to extract maximum nutrition from your favourite fruits, vegetables, and leafy greens. It has a copper AC motor that is built to last and offers an impressive 1-year warranty.
The juicer comes with three different types of strainers—juice, smoothie and frozen fruit strainers—so you can customize your recipes to suit your individual needs. By using a centrifugal force to cold press juice from any product, the Nutri-Max Cold Press Juicer ensures that you are getting the most nutrient-dense liquid possible for your health.
Best Features:
Vibrant wine red colour
Lightweight and strong
Quiet, noiseless operation
Slow juicing
Easy to clean
Juicing without prior preparation
Pros
Powerful motor
Assembly is easy
Product is user-friendly
Cons
SANSHAM Electric Juicer Mixer Grinder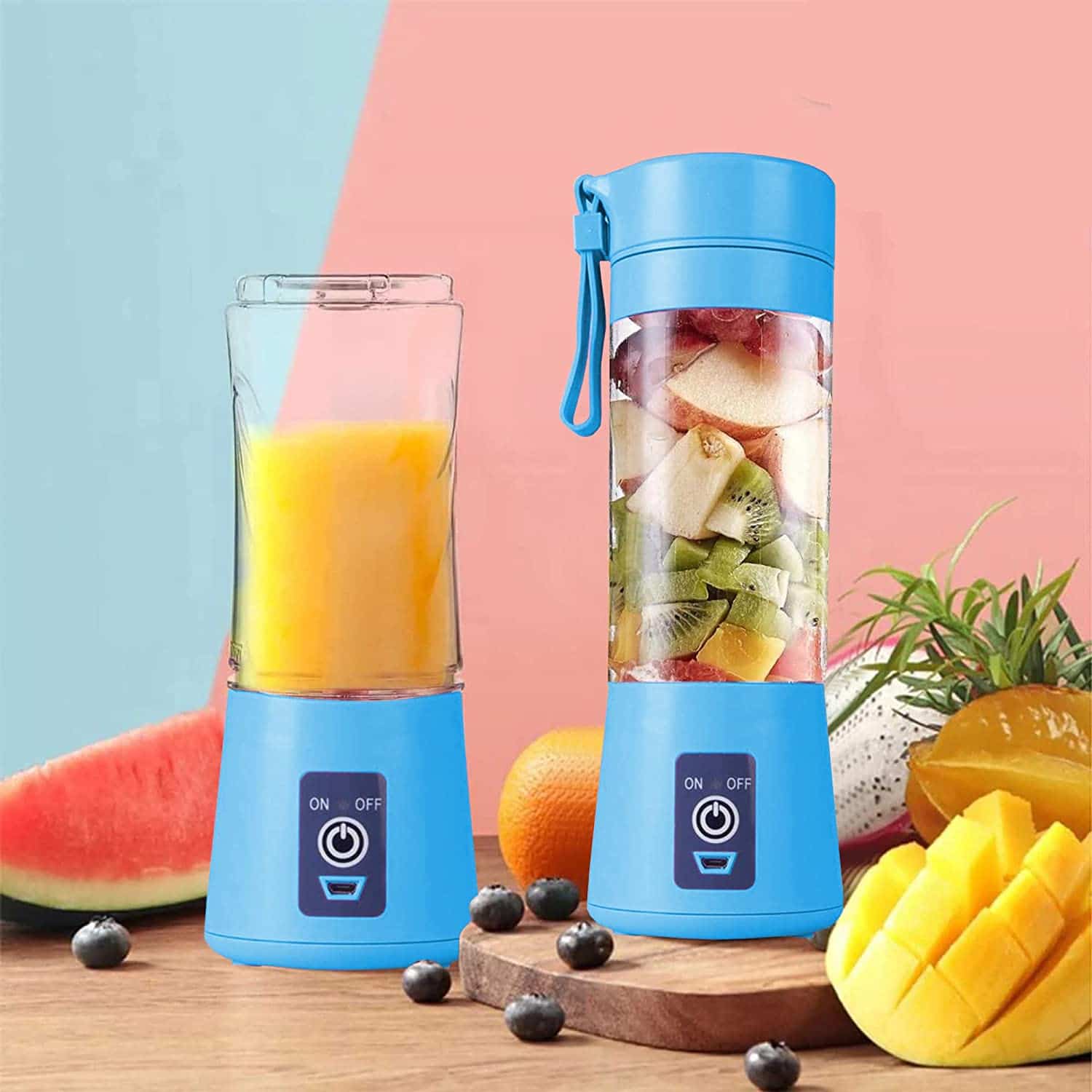 The Sansham Electric Juicer Mixer Grinder is the perfect kitchen appliance for those who want to create delicious, homemade meals quickly and easily. This compact, portable device can be charged through USB and comes with four high-efficiency blades for maximum blending power.
The detachable parts are easy to clean, making it a low-maintenance tool that you can rely on time and time again. Whether you're a smoothie enthusiast or a master chef, this juicer mixer grinder will help you create a variety of delicious recipes with minimal effort.
Best Features:
Travel-friendly
Can be charged using any USB ports
Has 4 different blades for maximum juicing
Pros
Easy to clean
Low-maintenance
Cons
Requires specific angles for it to work properly
Philips HR1855 Viva Collection Juicer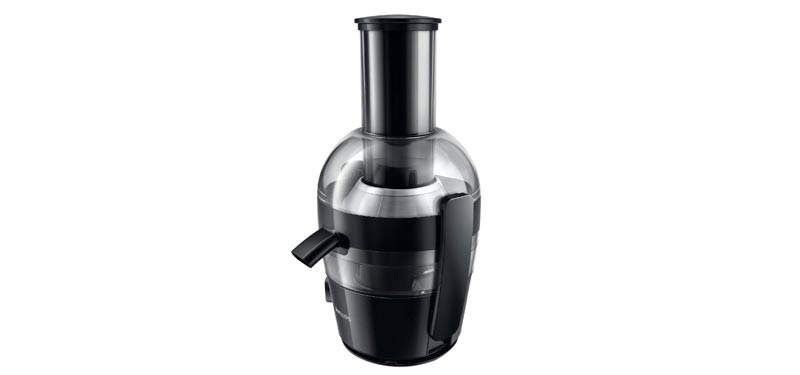 The Philips juicers from the Viva series are designed with advanced features and revolutionary technology to provide more value for money. This juicer can extract more juice from fresh fruits and give you 2 litres of juice in one go. It comes with easy-to-assemble parts that are dishwasher safe.
The innovative design features a motor with higher torque and power, ensuring the best possible performance even with tough ingredients like carrots or apples. Additionally, its low noise levels make it perfect for home use without disturbing your family or neighbours.
Best Features:
Country's first centrifugal juicer to have a distinct pre-clean feature
Powered with QuickClean technology for 1-minute cleaning
Automatic removal of residue fibres
Extra large feeding tube of 75 mm to accommodate big fruits
Transparent pulp container
Pros
The juicer has 800 ml jug capacity
It is easy to clean and also dishwasher friendly
You get 2 years of warranty on the product
Cons
Pricy if compared to other fruit juicers
Extracts very less juice
Sujata Powermatic PM 900-Watt Juicer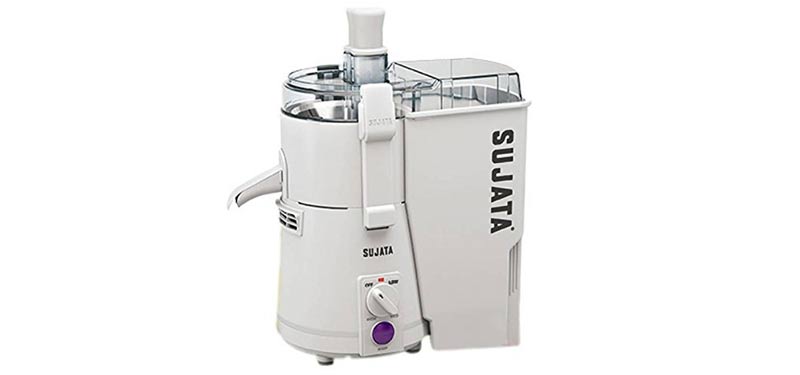 The Sujata Powermatic juicer is designed to be an all-rounder in your kitchen, as it assures durable performance for many years. This versatile home appliance sports a shock-proof body with a low-maintenance design to ensure long-lasting service. In addition, the 900 Watts motor of this juicer featuring double ball bearings performs with 22000 rpm to maintain the authentic aroma and flavor of the fruits.
Best Features:
It is offered with a distinct honeycomb filter mesh for high juice yield
It has 3-speed settings and a whipping function
Unbreakable and transparent jar with high strength SS blades
Continuous running for 90 minutes
Pros
Sujata Juicer comes with a warranty of 2 Years
Low maintenance, shock proof and safe
Easy to use and clean
Cons
The motor makes loud noise
Not for vegetable juice
How to choose the right juicer for your home
With so many brands available online, it's not easy to pick the right one for your home. So, to ease up things, we have provided the buying guide information – type, capacity, juicing speed, attachments, noise interference, and much more. Scroll down to learn how these parameters play a crucial role in improving the device's overall performance.
Types of Juicers
There are different types that will let you squeeze carrots, beets, oranges, etc. effortlessly in less time. After doing a bit of research work, we've categorized the models into 3 types based on features, and functionality. Based on your budget, decide for yourself what that perfectly matches the home requirements.
Centrifugal Juicers
Masticating or Cold Press Juicers
Twin Gear Juicers
Few Attachments
Foam Separator: The device comes with a collection jug, including a foam separator to separate the foam from the juice.
Large Feeding Chute: It is best to choose a device with a relatively large feeding tube so that it can take chunks of fruits and veggies. It can save time and reduce the work of chopping.
Non-Slip Feet: Most devices come with a non-slip feet design featuring rubber pads or suction cups present at the bottom to prevent spillage.
Pusher: A pusher fits in the feeding chute and helps push the fruits and vegetables into the device safely.
Safety Lock: Almost all devices have a safety lock lid to ensure the machine does not start until the cap is locked securely.
Soft Fruit Disk: This is an added accessory that can create thicker drinks using softer fruits such as berries.
Juicing Speed
Centrifugal models are the fastest as they can prepare fresh juice during the busy morning hours. They come with three different speed settings – low, medium, and high, making them suitable for people who are always on the run. Masticating and twin gear models take time to extract the juice because the juice is more nutrient-dense.
Ease of Cleaning
If you are busy with household chores, you may not get enough time to clean the machine. Hence, you should look for a model that is easy to use and clean. Some of the brands come with dishwasher-safe options, and you must be careful while cleaning the attachments.
Price and Warranty Details
Lastly, one must look at the price and warranty information before purchasing the juicer. You should also beware of how much you are spending and choose the appropriate model online. If you don't love to spend more, go with the basic brands that come at cheap rates. Also, check out the warranty details disclosed by the manufacturer. It typically varies from 1, 2, and 5 years on the device and motor as well.
Frequently Asked Questions on Juicers
1. Which are the best juicer brands available in India?
A juicer is a must-have kitchen appliance that helps blend the natural ingredients to make a thick shake. Of all the brands, we've picked Philips Electric Juicer as the best because it has all the features like quick cleaning technology, non-skid feet design, and a powerful motor to match the user requirements. Also, it has got good reviews to use for home and commercial purposes.
2. How long can a juicer last?
The average lifespan is 5years and may vary depending on the usage, quality, and functionality. If you use it daily, then the lifespan is reduced to 2, or 3 years.
3. What attachments do I get with a juicer?
When you buy a juicer online, you will get the attachments like a pusher, pulp container, juice container, mesh filter, foam separator, cleaning brush, spinning brush, and hopper to make the juice tastier with high nutritional value.
4. How often should I clean a juicer?
Cleaning a juicer depends on the frequency of usage. If you use it daily, it's better to clean it every day for smooth functioning. Otherwise, you can clean once a week or month at your convenience.
5. Is it better to buy a centrifugal or masticating juicer?
It depends on your personal preferences and juicing needs. Centrifugal juicers are generally faster and more affordable, but they can be loud and may not extract as much juice from leafy greens. Masticating juicers are slower and more expensive, but they tend to produce higher yields of juice and can handle a wider variety of fruits and vegetables.
The Bottom Line
We have chosen these products based on a few parameters like juicing technology, cleaning process, sturdiness, aesthetic value, juicing power, the sharpness of blades, etc. We hope the list we have compiled here has made your job of choosing the perfect juicer much easier. You can also go with premium-quality hand blenders for preparing smoothies. So shop online to get great deals and discounts to save on your investment.