Home And Groceries Deals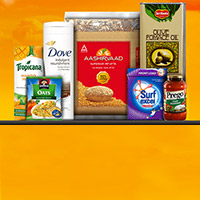 Home And Groceries Deals of the Day
No Deals Available
206 Users Viewed
Home And Groceries Deals of the Day
The Deal With Groceries
Did you ever think you could order fresh fruits and vegetables off the internet? Not just it, you can even buy all your other groceries too. From sugar and milk to all your toiletries such as soaps and shampoos. Yes, it is possible to do that now. It is a great deal to get on your everyday groceries. It isn't always possible to step out and buy the ration with the hectic work schedules and so many times when you go grocery shopping after work either the stores are shut for the day or most of the stock is over and so on the cycle continues until you have your week off or a holiday. Ordering all your home needs online is very convenient for you. You can order them from wherever you are, be it work, commuting from or to work, or just woken up. Just pick your slot when you want it delivered and you are good to go. What's even better is that we have curated all the best home and groceries deals for you. Just pick whatever you want see what deal you are getting on it and if you are happy with it, go ahead with.
Are The Deals Valid On All Products?
From buying lentils and flour for making dal and roti to buying all-purpose flour, essence and all for baking cakes. Basically whatever you need at home from the kitchen to bathroom essentials. Buy everything your house needs with these home and groceries deals. There's something for every room of your home. Halls, dining halls, kitchens, bedrooms, bathrooms. From cushions for your sofa in the hall to carpets in your bathrooms everything else, there are home offers for it right here. On the Grocery end, if you are planning to make a dessert or a proper meal, you can order all the ingredients online and get them delivered to your doorstep. This deal page takes care of both Home and Groceries offers for you. So if you are ever out of sugar or milk, you order
Where Are These Deals From?
With everything shifting online, the grocery sector isn't that far behind either, to make our lives a little bit easy we can now get all the groceries the ones that go in the fridge as well as the ones that go on the shelf. Order all of them from the comforts of your home. There are a lot of online groceries in the market. For example, there is Big Basket, it is a great place to shop online and it also has a lot of grocery offers for new users. Grofers another online grocery shopping place is an all in one store, meaning it also includes electronics and cosmetics as well and is not just restricted to groceries. Amazon Pantry, a part of the Amazon itself is another online groceries option. We curate the best of the home and grocery deals for you from these stores making grocery shopping fun and convenient.