go back to

Stalkbuylove Deals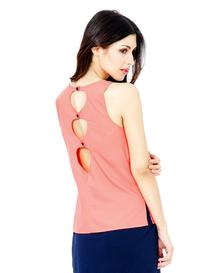 Stalkbuylove
Heart Drop Top
To look stylish may burn a hole or two in your pocket. Not any more! Presenting to you this heart drop top at a 15% off price. Buy this gorgeous looking top for just Rs 467. So don't say beautiful things don't come cheap. Pamper yourself with this top today. Hurry up. The clock is ticking away.
Product Description
Its evident how boring it gets wearing the same old pattern outfits for so long. With latest designs and styles hitting the town every now and then, it gets important to stay right in the scheme of things. Buying the right kind of dresses that not just fits you perfect but also getting the best out of you is a task that's hard to accomplish. StalkBuyLove presents to you its heart drop tops at a very cool looking color. The heart shaped cut outs at the back is the highlight of the top. The cut outs are very precise and good looking. There is fast buttoning at the back as well. The colour of the top is very sober and it's a 'any-time-wear' kind top. This round necked sleeveless top comes in a regular fitting. This top is simply the one you would want to wear to work or to various leisure activities. Its comforting fabric makes you feel relaxed and composed. You can choose from any size that is available. All sizes are available with this product. Style up this top with jeans skirts for best results.
Now you can walk with confidence and glamour. This top will surely make a step higher than all others around you.
Product details:
Item: Top
Brand: StalkBuyLove
Color: Pink
Sleeve: No
More Fashion Product Deals