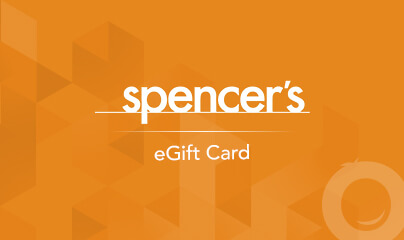 Spencers Gift Card
3 Gifting Options
1 Active Offer
i
Spencer's Gift Cards Info
Ongoing Gift Card Offers
Purchase giftcard using PayPal & get 50% cashback (Maximum cash back Rs. 100) by PayPal. Limited time offer for new users. Cashback will be credited within 5 days of transaction. T&C
Is your friend too lazy or simply way too exhausted to go to the bazaar for grocery shopping? Are they in the look out for gourmet ingredients which they can't find at the local grocers? It's time to get them a Spencers gift card. Finding the perfect gift is a task especially when you have to gift something that will be welcomed and actually used by your friend.You can thank us later for suggesting you to gift this amazing and actually useful Spencer's gift card to your friend. With this special Spencer's gift card, one can purchase literally any home essential/grocery available at the Spencer's retail outlets across India. Whilst you're here don't forget to look up the various offers by Spencer's curated by GrabOn.
Spencers Gift Voucher
type
value
you pay
savings
₹500

₹500

--

buy now
₹1000

₹1000

--

buy now
₹2000

₹2000

--

buy now
About Brand
FAQs
terms & conditions
About Spencer's
Grocery shopping is an essential task for literally household. Spencer's understands that and makes sure customers can shop at ease in their numerous outlets spread across the country. Owned by the RP Sanjiv Goenka Group, this multi format retailer is India's oldest grocery chain after being established in 1920 and also the first to start a chain of hypermarkets in Hyderabad in 2001. The supermarket chain sells products ranging across numerous categories including food, grocery, home essentials, fashion, personal grooming and care, electronics and more. Of late customers can also order groceries online through the Spencer's web portal. Spencer's Smart Rewards is a loyalty program run by Spencer's, where member customers get instant discounts and special offers on their purchases.
Gift Cards From Spencer's
For all those times where you didn't have to storm your way in to a crowded, smelling marketplace to get your grocery and instead opted for an all in one air conditioned hypermart i.e. Spencer's, don't you think your friends and family deserve a similar experience? Present the Spencer's gift cards as a token of love and gratitude to your near and dear ones. Moms especially would be fans of this amazing gifting idea. The gift cards will be loaded with cash which the recipient can redeem at any of the 125 Spencer's outlets spread across 35 cities.
+ read more
FAQs
1. Why should you go for a Spencer's gift card?
Gift Card provides the buyer with the option to choose his/her own gift. With Spencer's gift voucher, one can purchase products across various categories. Whatever you need, right from grocery to fashion, Spencer's has it all.
2. How do I buy Spencer's gift card?
To purchase your card:
Visit GrabOn Gift
Search for Spencer's
Select the type of card for the desired occasion
Enter the denomination and the recipient details
Write a customized message if you want
Select a payment option and complete your transaction
You will receive a confirmation mail at the mentioned email address.
3. What are the different types of Gift Cards available at Spencer's?
There are two types of cards available, namely e-card and physical card. You can buy the e-vouchers here at GrabOn for your friends and family members. Corporations can also use the platform to buy Gift Cards for their employees and the organization.
4. How soon will I receive my gift card(s) after purchase?
You'll receive your card in your email inbox within 24 hours from the time we receive your payment. The e-Gift Card will be sent to the recipient's email address as provided by you.
5. How can I use my Spencer's Gift Card?
You can redeem by using it while shopping on Spencer's website. To use your card, apply the code and the corresponding PIN during your checkout payment process. Your card can be redeemed against any purchase made on Spencer's website or for in-store purchases.
6. Where do I reach out to in case I have any questions related to the gift card?
In case of any queries, you can reach out to customercare@spencers.in or call at 1800-103-0134 between 9 AM to 9 PM every day.
+ read more
This Electronic Gift Card (E-GC) is redeemable at Spencer's store only.
This E-Gift Card is redeemable only once and only by the bearer.
This E-Gift Card is valid for a period of 12 months from the date of issue.
This E-Gift Card needs to be used infull. In case the value of the merchandise exceeds the value of E-Gift Card, the difference shall be paid by the bearer. No refunds / credit note shall be issued for unused part of the E-Gift Card.
Protect the E-Gift Card number and PIN to avoid misuse. Spencer's shall not assume any liability in case the E-Gift Card PIN gets stolen/compromised, Spencer's shall neither replace the E-Gift Card nor refund cash.
Once the E-Gift Card is issued, Spencer's will not entertain any request for cancellation. Any exchange by the bearer will be considered a valid discharge of Spencer's's liability.
Spencer's reserves the right to alter any / all the terms and conditions of this E-Gift Card any time without prior notice.
+ read more