All About PVR Cinemas
With a humble beginning in 1997, the Priya Exhibitors Private Limited and Village Roadshow limited came together to form the Priya Village Roadshow (PVR). Today, PVR serves as the benchmark to luxurious and elite cinema watching experience in India. Changing the cinema viewing experience for the entire country, PVR has a strong presence all around the country with 625 screens in 134 locations across 51 cities including metropolitan cities like Delhi, Hyderabad, Chennai, Bangalore, Mumbai and smaller cities like Bhopal, Vijayawada, Kanpur, Hubli, etc.
PVR Gift Cards - Your Favourite Gift Card
There is nothing better than giving someone the chance to spend some quality time and relax away from all that stress. PVR Gift Cards provide you with a perfect reason to break out from the monotony and spend a couple of hours watching the movie of your own choice. PVR Gift Cards also provides the best way to express your gratitude, apology, and appreciation to someone. It's the new times and herein, Gift Cards are one of the best gifts one can give to someone. Be it festivals or recognition, this is one size that fits all!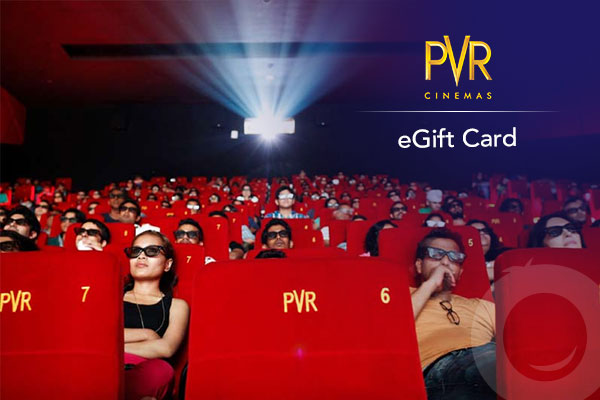 Why Choose PVR Cinemas For Gift Cards?
PVR Cinemas is one of the most prominent theatre chains in India and offers a variety of amenities including surround sound, exclusive screen, comfortable seating, deluxe seating, food courts and a lot of other things! The largest cinema chain in India; from PVR's Gold Class and Mainstream Cinemas, Director's Cut to the latest format- PVR Icon, the company has made exceptional technology like IMAX® and ECX (Enhanced Cinema Experience). They also made 4DX accessible to its audience. If you're a movie buff who thinks watching cinema is great, you cannot miss this opportunity!
Fast E-Gift Voucher Delivery
Buying gifts online makes life far easier. It eliminates the extra time and effort it would cost to jump from store to store, looking through each store, etc. However, the downside surfaces only once you've finished shopping, in the form of waiting for the delivery. With a PVR gift card from GrabOn, the gift will reach the receiver within half an hour! With a team that ensures your gift card reaches as soon as possible, the next time you forget to buy somebody a gift, and don't have the time to go shopping for one, you now know just what to do! You can just take a print out and there you have it! An instant physical gift!
Combine Deals and Discounts With Gift Cards!
PVR Gift Cards are already very affordable and reasonable but if you're looking for some brownie points, here are some great deals, discounts and amazing offers from PVR Cinemas Gift Cards through GrabOn. Combine your Gift Card powers along with the tested and verified coupon codes to redeem the best possible price! Check out the best of them here!
PVR Privileges Gift Card= Forever Happy!
PVR Privilege is an exclusive loyalty program, and it rewards users if they watch movies at PVR theatres. Members earn points on their purchases on Tickets and on food/beverage items, and those points are used to generate vouchers that can be applied to future purchases of tickets and/or food/beverages. With a PVR gift card, you get the same points and even if you technically don't spend on these purchases, you still get the points! So, if you gift someone a gift card, they can watch a movie for free and earn vouchers and get discounts in the future! You are not just giving them a gift, you are making them happy for the long run!
Celebrate Diwali The Most Dhamakedar Way!
Diwali is synonymous with family time. And that is exactly the reason why some of the top movies are released during the month of Diwali. In fact, some of the most blockbuster movies by Shah Rukh Khan, Salman Khan and Amir Khan are released during this time. So, go ahead and get a gift card for yourself or your loved ones. Celebrate the festival of lights on the big screen with movies and popcorn!