Trying to find a perfect gift for your fashionista friend? The search is over! Presenting, Nykaa Gift Cards. You no longer need to fish for the right gifts for your special someone, Nykaa has it all! Be it your loved ones, your friend or your family, and there is something for everyone on Nykaa. Nykaa.com is a premier online beauty and wellness destination. It offers beauty and wellness products for men and women at the best prices. The products are 100 percent genuine and authentic, sourced directly from the brands. Nykaa makes it easy to shop for makeup, skincare, hair, bath and body, fragrances, herbal, wellness, mom and baby, and gift products on Nykaa. Avail of some great offers on beauty and wellness products as well with the fantastic deals and discounts through GrabOn.
Nykaa Gift Voucher
type
value
you pay
savings
₹100

₹100

--

buy now
₹250

₹250

--

buy now
₹500

₹500

--

buy now
₹1000

₹1000

--

buy now
₹2000

₹2000

--

buy now
About Brand
FAQs
terms & conditions
Get Nykaa Gift Cards from GrabOn for Your Loved Ones
It's your loved one's special day and you want to pamper them with a gift that they truly deserve. Are you wondering what to gift them? Well, the option of gifting them 'freedom' of getting whatever they want sounds like the best idea. Get Nykaa Gift Cards for your precious people and make them happy on special days and otherwise. Pampering doesn't need an occasion!
Why should I buy a Gift Card?
Gift cards are not only the safest gift but also helps you make your loved ones smile by letting them pick what they want from their favorite stores. With numerous occasions coming now and then, it becomes taxing to select a gift for your friends and family. Gift Cards work wonders there as they can be delivered instantly over emails.
When can I buy Nykaa Gift Vouchers?
Nykaa Gift Vouchers available on GrabOn can be bought for any occasion. Whether it is the regular festivals or days like Valentine's Day, Women's Day, etc., Nykaa Gift Cards can be loaded with an amount of your choice and sent to your favorite people. Within the validity, they can redeem the voucher whenever they want to buy products of their choice. Living abroad? Send your loved ones in India a token of love through Nykaa Vouchers that you can buy at GrabOn and avail attractive offers.
What Does It Have To Offer?
Nykaa is more than just a beauty website. You can buy your favorite cosmetics, health, and wellness products along with lingerie, apparels, appliances, baby & mom care products, etc. The website offers products for both men and women, so you don't have to think before buying Nykaa Vouchers from GrabOn. The Gift Vouchers from Nykaa can be used during the discount and sale season. You can select
Physical Gift Voucher
Nykaa e-Gift Cards
Buy Personalized Nykaa eGift Cards from GrabOn for Every Occasion
Want to remind your beau how much you love them? Pamper them with things that they love and let them know you care. Nykaa has a Gift Card for every celebration. Be it Birthday or Anniversary, Wedding Gift or Baby Shower, and you can find a personalized gift card for every celebration of love. Let them know how much they mean to you by writing a personalized message on the Gift card. The gift cards can be used just by entering the 16 digit PIN sent on the email along with the e-gift card.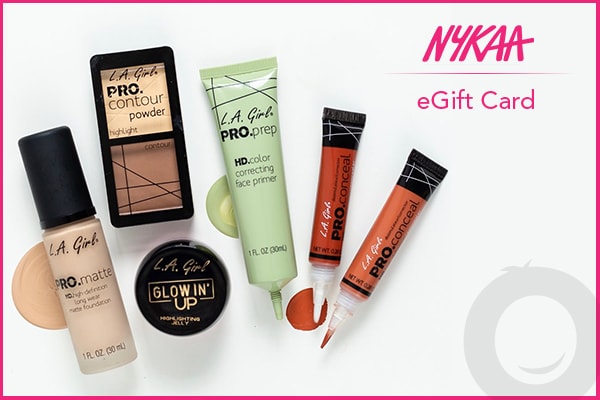 Celebrate Diwali with Nykaa Gift cards
Surprise the fashionistas in your life with a Nykaa Gift Card and help them add all those glitters. What's Diwali without a perfect Diwali look and a Nykaa Card. It will help your loved ones buy the best make-up products, natural cosmetics, and even clothes. With Nykaa Cards, you can gift your loved ones something special and let them shop at their heart's content. You can choose a denomination of your choice while picking a gift card and shop online without any problem.
Grab Best Nykaa Deals and Offers on GrabOn
There's no end to expressing love! GrabOn has the best Gift Cards for you to pick from along with exclusive deals and offers on Nykaa to help you save maximum on the purchases that you make. GrabOn has the best coupons and offers for you to help you save big while you shop. Splurge on yourself and your loved ones without getting a hole in your pocket. Save with GrabOn!
How to use Nykaa gift card?
Go to Nykaa website and choose the products of your choice
On reaching the payment option, choose Gift Card
Enter 16 digit Card code and a Pin and click Apply. The amount will be deducted automatically.
How to buy Nykaa gift card?
Here's a guide to buying Nykaa Gift Vouchers on GrabOn
Go to GrabOn Gift Cards portal and select Nykaa
Pick the denomination and select Buy Now
Enter receiver's and sender's details and confirm SMS verification
Choose the payment option. You can select Debit Card/ Credit Card/ Paytm Wallet/ UPI etc
All About Nykaa Gift Card FAQs
What can I do with a Nykaa Gift Card?
A Nykaa Gift Card allows you to purchase beauty products and cosmetics from a wide range of available options. Gifting makeup is made more accessible with Nykaa gift cards. You don't have to worry about selecting the right set of makeup for your friend. With Nykaa Gift card, your close one can purchase cosmetics as per their choice. The store has many products to offer. One choose from the set of available denominations or enter their own amount.
Nykaa Products You Can Buy
Makeup
Skin
Hair
Natural
Wellness
Fragrance
Personal Care
Appliances
Gift Card Queries and Redemption Details
1. While purchasing a Nykaa gift card or voucher
Go to https://www.grabon.in/giftcards/nykaa-gift-vouchers/
Select from a list of available Gift Card denominations.
Click on 'Buy Now'
Enter the recipient details
You can enter a personal message
Verify through SMS
Finally, proceed to Checkout and make the payment. You can pay via credit card/ debit card/ Net- banking.
The Nykaa gift card will be sent to the respected recipient once your payment transaction is complete.
2. Can I use multiple Gift Card during one purchase?
No. You can only use one gift card during one transaction.
3. What is the redemption method of Nykaa gift card or voucher?
Once you have added products to your cart, place your order.
Confirm details
While checking out, Choose the pay by Nykaa gift card option
Enter your 16 digit Nykaa gift card number and the corresponding 6 digit PIN number while making the payment of your order to redeem your gift card.
4. How will I receive my Gift Card(s) after purchase?
You'll receive your Nykaa gift card in your email within 24 hours from the time we receive your payment. The e-Gift Card will be sent to the recipient email address provided by you.
Nykaa Gift Card Purchase/ Transaction Related Queries
1. Can I use my Nykaa gift card on other online stores?
No.
2. What can I do if my gift card balance is less than the cart value? Can I use it with other payment option?
Please get in touch with our customer support executives to know more.
Customer support details
Drop us a mail at giftcards@grabon.in and our team will get back to you.
1. These Terms & Conditions apply to Nykaa.com e-Gift Cards ("e-Gift Card") powered by QwikCilver Solutions Private Limited ("QwikCilver"). By purchasing the e-Gift Card(s), you are agreeing to and accept these Terms & Conditions. Your use of the e-Gift Cards shall be deemed to be your understanding of, and agreement, to each of the terms and conditions set forth below.

2. The e-Gift Card can be redeemed online to purchase products on the online ecommerce store operated by Nykaa E-Retail Pvt. Ltd (including Nykaa.com). It can also be used at Nykaa retail stores operated by Nykaa E-Retail Pvt. Ltd.

3. The e-Gift Card can be redeemed only to purchase products sold by Nykaa directly and is not valid on products sold by partners on Nykaa. You can check the seller of the product on the product detail page.

4. e-Gift Cards cannot be used to purchase other Gift Cards.

5. The Gift Card once purchased cannot be cancelled, refunded or returned.

6. Once purchased, the recipient email cannot be changed.

7. If the order value exceeds the e-Gift Card amount, the balance must be paid by other payment option.

8. If the order value is less than the amount of the e-Gift Card, the outstanding balance (after deduction of order value) will reflect under the same e-Gift Card.

9. For online orders at nykaa.com, if the order value is less than the amount of the e-Gift Card, the outstanding balance (after deduction of order value) will reflect under the same e-Gift Card. For offline orders at Nykaa stores, if the order value is less than the e-Gift Card amount, e-Gift Card won't be applied to the order.

10. You can redeem only 1 Gift Card per order. The Gift Card can be combined with promotional codes, or other payment options except COD.

11. e-Gift Cards will expire 365 days from the date of issue and the outstanding unused balance will be forfeited. Unused balance of e-Gift Cards may not be transferred to another Gift Card.

12. Nykaa.com and QwikCilver (Woohoo)are not responsible if card is used without permission. Nykaa will have the right to cancel the e-Gift Card

obtained fraudulently and the funds have to be credited back to the same source from where these were received. Nykaa does not warrant that the services and products provided to you pursuant to this Agreement will be free of interruptions, errors, bugs, viruses or security problems.

13. You agree and acknowledge that you shall be solely responsible for maintaining secrecy of the code provided to activate the e-Gift Card.

14. Validity of e-Gift Cards will not be extended, new e-Gift Cards cannot be provided against the expired/unused Cards.

15. e-Gift Cards cannot be reloaded or resold.