The Brand Story - Nautica
Nautica began its journey 35 years ago in the apparel industry. The semi-premium brand is an American multinational apparel company that specializes in men's, women's and kid's clothing and accessories. Nautica started out as an apparel seller in the year 1983 then ventured into the watch and fragrances division. Initially founded as State-O-Maine by David Chu and Partner, the duo later named the company as Nautica in the year 1994. Within a span of few years, Nautica started their own Sportswear and jeans company. This leading global lifestyle is the most recognized American brands in the world. With over 1,400 Nautica branded shops worldwide, Nautica has over 291 international stores in more than 65 countries. The Nautica family has always made it a point to inspire and enable people to experience the joy of shopping. Additionally, the Nautical team has partnered with the 'Charity: water' to contribute and support charity programs. They provide their support through online donations and corporate contributions. This conscious step towards benefitting over 85,000 people for clean and safe water access has resulted in tremendous outcomes. Nautica puts in immense efforts in helping people and bringing resources to them.
Shop The Nautica Way
Nautica, an American clothing company has a plethora of products for everyone in the store. Be it in any category, for men, for women, for children, they have got it covered. The brand has two unique offerings in place, 'Nautica's vintage collection' and 'Lil Yachty' by Nautica collection. To help you shop better, Nautica has its own blog in place. So what are the things covered? Be it about a product, events or latest news, you can find it all here. The blog also covers the latest fashion trends and has a shopping guide in place for you. So, when in doubt, visit the '360° Blog'.
The Store Collections
The brand is known for being one of the famous apparel shopping destinations in the clothing industry. Making their in-store collections some of the best in town. Be it in terms of quality, texture, fitting and what not, Nautica ensures to deliver only the best. Coming to the in-house products, Nautica has separate sections for men, women, and kids. Right from clothes for men, women, and kids to watches, bags, belts, footwear, and an endless list of accessory collections, Nautica has everything. What's more, the store has a dedicated section for home decor. Great, right? Well, that's not it. Nautica has its own sale. Check out their website to get a glimpse at the offerings. Team Nautica also has customized rewards points for its members. The rewards are earned based on the purchases you make and can be used in the consequent purchases. There is extra reward points up for grabs during special occasions. You sure wouldn't want to miss out on any.
Gifting Made Easier
Gift cards have indeed made the whole process of gifting easier. They help you save on time, the amount of time one takes in deciding on a gift, and most importantly in travel time. And what if you get them something that they don't like or won't be of any use to them? What then? Well, why go through all that when you can just give them something that would let them buy whatever they want as per their wish. And there's when the Nautica gift vouchers play a crucial role. They convey your wishes to the person and at the same time achieve their purpose. The world of gifting has transformed ever since the birth of gift cards. Gift cards are preferred on certain occasions when nothing pops up in your mind. The gift cards rescue you from all that trouble of selecting a gift. Need more reasons to choose a gift card? Well, there are offers on the Nautica gift card that you wouldn't want to miss. So what are you waiting for, go ahead and get a gift card for your loved one soon?
Gift Cards From Nautica
The Nautica gift cards are one of the best things one can give out as a present. The receiver can possibly buy anything from the Nautica store. One can get the physical gift cards or the Nautica E-gift card from the Nautica online store. And there's a gift card for every occasion. There are customized Nautica gift cards which are available in different denominations or you can enter your preferred amount. One can redeem the Nautica gift cards online after they make a purchase during the checkout page. The physical gift cards are usually delivered to the specified receivers' address and the e- gift cards are mailed to the addressee it is meant for.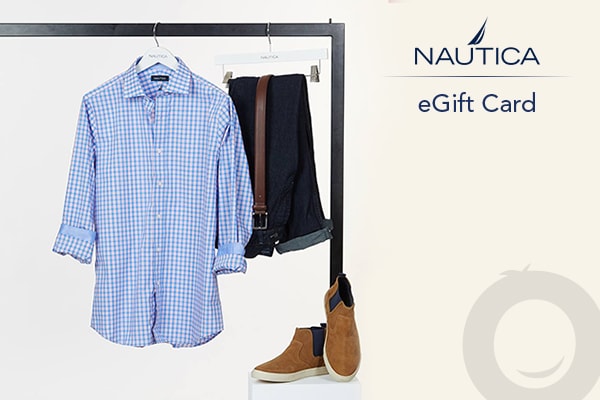 Great Savings And Discounts
Everybody loves gifts. And nothing is better than being able to buy anything as per your likes. Getting your loved ones Nautica gift cards online is the best thing you can do. Getting to choose what they like the best from a huge range of apparels and accessories on Nautica is great. Buy Nautica gift cards for them and give them the power to get whatever they like. Now, when it comes to savings, the Nautica store has some of the best deals in town. From great discounts to sale on their products, Nautica offers you with deals that you can't say no to. From crazy deals to offers, they have it all. With a good set of products in the store, Nautica gift card vouchers are worth giving. And just to make that better you can avail amazing offers, deals and discounts on Nautica Gift cards only on GrabOn. No one will ever say no to a gift card or push away an opportunity of getting to buy something as per their choice. If you've ever fancied a delightful and fashionable shopping experience online, now is your turn. Shop with Nautica coupons and everything is just affordable! Stay up to date with the latest gift card categories in this GrabOn page. Go ahead and buy Nautica gift card for your loved one and make them feel special.