About The Levi's Company
Most of us are suckers for jeans. Made from a fabric called denim, it was originally used by cowboys and mine-workers way back in the 1850s. It was slowly turned into a fashion statement and by 1960s, it was part of the youth culture. Today, jeans are the most popular form of trousers. And Levi's holds credit for not only bringing jeans into mainstream fashion but also for patenting blue jeans. Today, they are considered the world's best jeans company. Denim enthusiasts swear that Levi's is a religion and they prefer only Levi's- a company that has been around for more than a century.
Way back in 1853, Levi Strauss, from Germany, opened a dry goods company in San Francisco, During his time, he realized that hard-working miners need clothes that can endure anything. Along with Jacob Davis, Levi combined copper rivet reinforcements with tough denims. And thus, the first denim jeans were manufactured in 1873. They also got their first patent and Levi Strauss & Co. was born. Since then, it has been born by cowboys, miners, actors and even the Presidents. What started as a utility became a fashion. Levi Strauss & Co. is one of the world's largest apparel companies and a global leader in jeans. They have 500+ stores worldwide, and their products are available in more than 100 countries. The Levi's brand also owns other popular names like Dockers and Denizen.
Get Their Best Products And Offerings
Being one of the largest apparel stores in the world, Levi's has dominated the denims market for over 150 years. Some of the key reasons why most people prefer denims because they are breathable, durable, comfortable and affordable! That's indeed a lot of "-able" for one of the ablest clothing company. Some of their recent styles and trends have enabled the fashion industry to change popular styles. For men, they have Jeans, Pants, Shorts, Shirts, Sweaters & Sweatshirts, Underwears & Socks, Shoes. In outerwears, they have things like jackets, outer denim vests etc. In accessories, they have belts, wallets and backpacks. They also have some wonderful shoes like canvas sneakers and boots.
For women, they have some wonderful stuff in their wardrobe as well. Not only do they women exclusive fashion Jeans, Pants, Shorts, Shirts, Sweaters & Sweatshirts, Underwears & Socks, Shoes but also in accessories. Accessories include aprons, backpacks, bags, bandanas, belts, hats, socks and wallets. They even have stylish heels with signature Levi's style. Dresses, skirts, shorts or capris- they have it all, if you are exploring the women's section. If you are exploring the kids section, they have an extensive collection for the boys and girls. Based on their age, you can find what you are looking for the kids. From 4-20 years, they have something for everyone. They even have apparels for toddlers.
They also have exclusive MLB and NBA exclusive merchandises. They even have a very tacky skateboarding collection. They are even starting their exclusive "Made & Crafted" line, which is a new line of "craftsmanship and ruggedness of classic workwear with the fashion-forward styling and creativity often found on the street."
With such a huge wardrobe available across all age groups and for everyone, you don't need to go anywhere else. Find all the best things for your entire family. Just go to Levi Strauss & Co website and buy as much as you want. So, what are you still waiting for!
Why Levi's Gift Cards?
If you want to express your love for someone, get them a gift card. Levi's Gift Cards are even really special, considering all the advantages they have. Don't you hate it when your old friend's wedding clashes with your office business trip? Not only are you going to miss his/her wedding but also lose the opportunity to gift them what they always wanted. Well, shun that worry mood forever! Present them with a Levis e-Gift card and get it delivered to them within minutes, along with a personal message or a photo. You can also buy Levi's gift cards and send it over from your email. You can also get them a physical gift card. It usually takes 1-2 business days with a bit of additional shipping costs. You can get these Levi Strauss Gift vouchers under various denominations, the minimum being Rs. 500 and the maximum is Rs. 5000.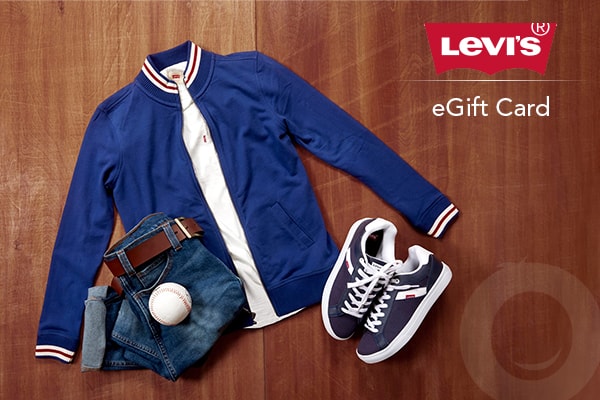 Advantages of Levis Gift Cards:
Instant availability
Valid for a year
No purchasing fee except the amount range.
Redeem online
Get it offline or online.
It is understandable that what to gift someone can be quite the burden mentally. Levis gift vouchers take care of all your problems away. You are not only going to get them the most innovative gift but also something that they can utilize well. The choice of the gift is completely on them but the gift is from you! Isn't it amazing when you gift them something and they actually end up loving it! You gift them a Levis e-gift and they get to choose what they want. They can even browse through Levi's store catalog and look for the type of clothing they want to buy, depending on the collection and availability. You can also buy the clothes online or go to a Levi Strauss & Co store and get the latest fashion for them. So, go ahead and claim that you are early for Christmas and start gifting people way before Christmas!
Best Deals And Offers Only On GrabOn
Get the best gift for your friends, family and loved and dear ones by gifting them something they are going to cherish for a while: Levi Strauss E-Gift Vouchers. You can gift these cards to anyone on any occasion. Doesn't matter what the occasion- anniversary, birthdays, Valentine's Day, Father's Day, Mother's Day, festivals or any other special occasion- if it is worth celebrating, it is worth gifting. Commemorate any special day with Levi's gift cards online. And get the best deals on the Gift Cards through GrabOn. Check them out now for the most profitable deal out there. So, what are you still waiting for? Hurry up and get a gift card today!