About Hidesign Brand
Starting from a simple pursuit of a hobby in 1978 by Dilip Kapur, a US return with a Ph.D. International Affairs, Hidesign faced no pressure to create a product for the masses, created pieces that were unique from the ones being sold in Europe and America at the time. From its artisan roots of a two-man workshop to a company of 3000 spread all over the world, Hidesign has stayed true to its strong heritage of craftsmanship and innovative design. Hidesign stands out for the sensuous naturalness of its high-quality leathers and the smooth soft glow of its solid brass fittings in the leather goods it handcrafts. From small alternative shops in San Francisco and London, the bags moved to the first adventurous department stores in the early 1990s in London, California, and Australia. Hidesign believes in being artisanal. At their atelier, there is no mass production, no assembly line. Products are all handcrafted using leathers that come from internally owned tanneries, brass buckles that are exclusively sand cast and polished painstakingly by hand.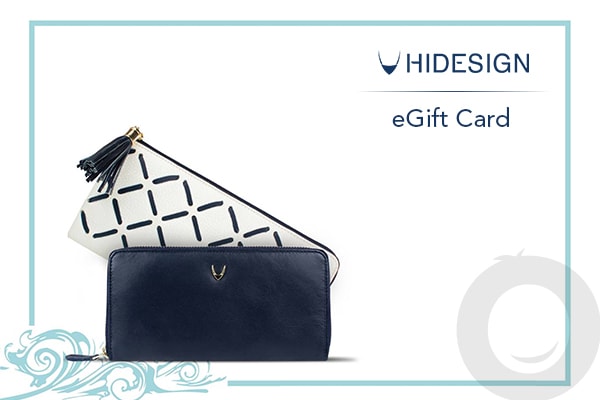 Hidesign For Men and Women
Bags
Hidesign has just the right bag-style for every personality type. Browse through our collection of backpacks, messenger bags, cross body bags and travel bags in subtly smart hues like tan, brown, black, red and blue. Canvas duffel bag for the light traveller, lightweight suitcases for the business trips, messenger bag that combines class and fun in the right proportion for everyday use, semi-formal men's crossbody bag for work hours, smart laptop sleeve that is impeccably classic, whatever it is you're looking for, Hidesign's men's bags have it all. Far more popular though, are the women's handbags at Hidesign. Being the number one accessory used by pretty much every woman to walk the face of the earth, a bag portrays elegance and is a piece of art in itself. Hidesign's collaboration with Kalki Koechlin also has some pretty leather bags in store for you.
Wallets
Wallets are a man's quintessential and most classic accessory. They portray a personality that is ready to take on the world with confidence and charm. Hidesign's men's wallets resonate with sophistication and suave and are a class apart. Similarly, Hidesign wallets for women are handcrafted using the finest leather. Made in classy, eye-catching designs, these wallets have enough room for all your necessities. Card Holders, Slings, Clutch or plain old Wallets, Hidesign offers a wide range of variety. With sober colors like brown to tan for men, and adding fun and quirky colors like yellow and red for women, you're sure to find the right wallet for you here.
Sunglasses
Your sunglasses can tell a lot about you. They have the power to transform your look completely. From providing protection from the sun to giving off a cool vibe, they are the perfect summer buddies. Offering an exhaustive range of sunglasses, Hidesign has the right pair for every face shape. Whether you're taking a walk around the city or are nestled high up in the hills, the Hidesign sunglasses are what you want by your side. Made from natural acetate, all Hidesign sunglasses are UV protected and polarized. Beating the heat couldn't get any easier of fashionable.
Belts
Who doesn't love a smart belt to uplift their outfit? From being used mainly as an accessory by men (as well as being utilitarian in nature) till the end of the 19th century, belts have now successfully made a niche of their own with women too. Adrian men's belt, Robert 01 men's belt, ranch croco. Mariko Women's Belt - Embossed Soweto Florence women's belt, Snake Ranch, Akiko women's belt, each unique in terms of color, texture, make, leathers etc. Explore all your options before you pick the right belt for you.
Shoes
Shoes are a girl's best friend! And, leather shoes are the kind that really stays with you. Having high-quality leather shoes that raise the style quotient of your wardrobe. Shoes are not just a part of the design, but also a part of your body language. The way you walk, and the way you move is dictated by your shoes. The finishing touch to your outfits, rubber soles that will keep your feet happy all day long, classic casual sandals made with handcrafted Dakota leather, well-fitting and graceful pair of shoes With Ranchero leather, 3-inch, closed-toe slip-on when you're in the mood to show people who is the boss, and more exclusive designs are available at Hidesign for you to shop.
Experience The Joy Of Giving With Hidesign Gift Cards
Looking to buy a gift online for a loved one? Birthdays, festivals, weddings or anniversaries, buying a gift is a process that takes a lot of time, effort and money. And in spite of all of this, you can never be sure if the receiver is going to be happy with the gift. Want a simple solution? Hidesign Gift Card! All you have to do is buy a gift card, and they get to choose exactly what their gift will be! And who would not enjoy shopping at a brand so well known with a product range so wide? Ranging from women's handbags to men's shoes, there is something classy and unique for everybody to buy with a Hidesign E-gift voucher. GrabOn's Hidesign gift cards also easy to buy, safe and quick to deliver! Completely forgot you need to buy a gift? Take a quick two-minute break to choose the value of the gift card, choose a recipient and pay, that simple! GrabOn ensures the Gift voucher reaches them within 30 minutes and voila! Nobody will ever know you forgot. GrabOn also creates a secure payment portal to ensure safety. So don't over think it, just pick a Hidesign Gift Card from GrabOn.