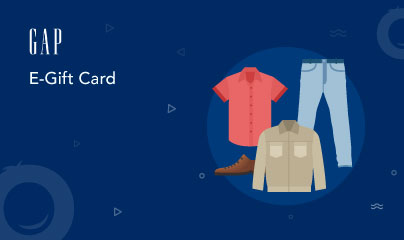 GAP Gift Card
4 Gifting Options
1 Active Offer
Ongoing Gift Card Offers
Purchase giftcard using PayPal & get 50% cashback (Maximum cash back Rs. 300) by PayPal. Limited time offer for new users. Cashback will be credited within 5 days of transaction. T&C
GAP or "The Gap Inc." is a multinational clothing brand based out of USA. The world's third largest company in terms of stores, the company was founded way back in 1969 by Doris and Donald Fisher. The company has several divisions like GAP, Banana Republic, Old Navy, Intermix, Weddington Way, and Athleta. They have transformed the specialty retail space over the years and are now one of the most popular brands across the globe. Be it men, women, girls, boys, baby girls or baby boys- they have something for everyone. Right from dresses, shirts, t-shirts, trousers, jeans, skirts, baby clothes, gym wear or sportswear- they have it all. With GrabOn, you can now buy GAP gift voucher online and gift it to your friends or family on any special occasion. So, hurry up and get them a GAP gift card today!
GAP Gift Voucher
type
value
you pay
savings
₹250

₹250

--

buy now
₹500

₹500

--

buy now
₹1000

₹1000

--

buy now
₹2000

₹2000

--

buy now
About Brand
FAQs
terms & conditions
About The Company - GAP
GAP or "The Gap Inc." is a multinational clothing and accessories retailer based out of USA. One of the world's largest producer of clothing accessories, the company was founded way back in 1969 by Doris and Donald Fisher. The company has been transforming the retail space ever since.
The name of the company was to indicate the generation gap during the time the company was founded. Evident, the company has made leaps and bounds since then, transforming the retail and specialty retail sector completely. A world-class retail company, they opened their first overseas shop in London way back in 1987. Over the years, Gap has completely changed the market with the full range of products they offer. Now, they are spread across all the continents. The company has over 135,000 employees and has a total of 3,727 stores worldwide. The GAP in world headquarters is in the San Francisco Bay Area. The company also has various HQ offices in London, China, Japan, and Canada. Their product development offices are in Los Angeles and New York City. The distribution operations and offices coordinate sourcing activities around the globe.
Why GAP?
One of the most excellent retailing companies in the world, GAP has established themselves not only as a brand but also as a brand leader. Most of their customers choose GAP for the following reasons-
High-quality materials in all of their products
Comfort
Casual style
Affordability
Considering that GAP does not compromise on any of these, it is a no-brainer why most customers choose them over other companies. True to their goals and ethics since their inception, GAP has catered to all kinds of audience. Updated with the latest fashion wear, they are also global trendsetters. That should give you more than enough reasons to keep on choosing GAP.
Product Offerings
GAP has many divisions and GAP Inc itself operates under five banners- Gap, Banana Republic, Old Navy, Intermix, Weddington Way, and Athleta. Out of these, Gap is the largest. They offer a wide range of products for women, men, and even kids. Their fashion products change from season to season. For example, they have a completely different wardrobe for the summer and a different one for autumn/spring. Be it dresses, suits, formal or casual wear- they have it all. They also have accessories, shoes, and gym wear/sportswear.
They even have a vast summer collection for men as well. For men, there are popular summer collections like- Western plaid slim fit shirt, Lightweight denim slim fit western shirt, slim fit jeans, etc.
With the years passing by, they expanded their fashion to girls, boys, and infants as well. You can find collections like- Stretch panel shorty shorts, Eco Puffer hoodie, soft denim shirt, Print raglan skater dress, Sherpa logo crew pullover etc.
GAP Gift Vouchers Online
Gift cards are an excellent way to express your love for someone. GAP Gift Cards are even unique, considering all the advantages they have. Do you hate it when your best friend's wedding clashes with your office meeting? Not only are you going to miss his/her wedding but also lose the opportunity to gift them what they always wanted. Worry no more! Get them a GAP e-Gift card and get it delivered to them within minutes, along with a personal message or a photo. You can also buy GAP gift cards and send it over by mail, which will be made available to you soon. It will usually take 3-5 business days to reach. For both kinds of gift cards, you can fill up from a range of $25-$500 (₹1700-₹35,000) and gift them the card.
Advantages of GAP Gift Cards:
Free shipping
No validity period constraint
No purchasing fee except the amount range.
Redeem online
Get it offline (to be available soon) or online.
One of the most significant confusion you might have is what to gift. GAP gift vouchers take care of that. Not only are you getting them one of the best brands, but they also get to choose what they want, the choice of clothing, color, fabric, and style. It is a gift with no imposition or force. You gift them, and they get to choose. They can even browse through the GAP catalogue and look for the type of clothing they want to buy, depending on the collection and availability. Buy the clothes online or go toa GAP store and get the latest fashion. So, go ahead and claim that you are a magi, gifting people way before Christmas!
Best Deals And Offers Only On GrabOn
Get the best gift for your friends, family and loved and dear ones by gifting them something they are going to cherish for a while: GAP E-Gift Vouchers. You can gift these cards to anyone on any occasion. Be it an anniversary, birthdays, Valentine's Day, Father's Day, Mother's Day, festivals or any other special time- if it is worth celebrating, it is worth gifting. Commemorate any particular day with GAP gift cards online. Get the best deals on the Gift Cards through GrabOn. Check them out now for the most profitable deal out there. So, what are you still waiting for? Hurry up and get a GAP Gift Card today!
+ read more
All About GAP Gift Card FAQs
1. What does the GAP Gift Card do?
A GAP e-gift card lets you give someone the gift of the best clothes. Not just clothes, you can also buy clothing accessories, using the GAP gift card. Be it a birthday, anniversary, festival, even if it is all business. They are also good as corporate gifts.
2. How do I buy a GAP Gift Card?
Follow these steps, to purchase:
Go to: https://www.grabon.in/giftcards/gap-gift-vouchers/
Choose the Card from the list
Choose the amount you want to refill on your card
Make the payment via credit card/ debit card/ Net-banking
3. How will I receive my GAP Gift Card(s) after purchase? How long is it valid for?
You'll receive your card in your email within 24 hours from the time we receive your payment. Please refer to the terms and conditions to know the validity of your card.
4. How do I use my GAP Gift Card?
To redeem your gift card, follow the below steps:
Select items for purchase. Click on the 'Proceed to Pay' option on the check out page.
In the choose payment method page select the 'GAP Gift Card' option.
Enter your 16-digit card number and the 6-digit PIN number provided on your gift card.
If your order total exceeds the value, you will be asked to select an additional payment method.
And, if the order total is less than your gift card value, then the balance will be credited back to your card. This can be used for the next purchase.
No, you can only use one gift card per purchase at the any of the GAP outlets or on the app/website.
5. If I cancel my purchase or booking what happens to the GAP Gift Card that I have used?
In case of a cancellation, please get in touch with our customer support regarding the available options of repayment or transaction failure. Mail us at giftcards@grabon.in and our team will get back to you.
+ read more
On ordering with us, you will receive an ARVIND E-Gift Card.
This e-gift card is freely transferable and redeemable for any product/merchandise at any participating store of Arvind Brands in India, including Arrow, Izod, Elle, Flying Machine, US Polo Assn., Gap and Aeropostle stores
This E- Gift Card can be redeemed only once.
This Gift card/ E- Gift Card can be redeemed only at selected outlets.
Please present the print out of this e-gift card to the customer relationship officer prior to billing or when you want to redeem the card.
Payment through e-gift card is not valid during sales and promotions at local stores.
The e-gift card balance is redeemable for merchandise only and will not be redeemed for cash.
In case the value of the merchandise exceeds the value of the e-gift card, the difference must be paid by cash, credit card or debit card.
This e-gift card will not be replaced or refunded if lost. This e-gift card can neither be redeemed for cash or credit nor would any unutilized balance be refunded.
+ read more