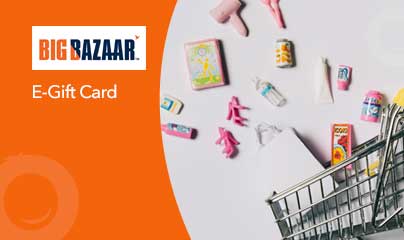 Big Bazaar Gift Card
4 Gifting Options
1 Active Offer
i
Big Bazaar Gift Cards Info
Ongoing Gift Card Offers
Purchase giftcard using PayPal & get 50% cashback (Maximum cash back Rs. 250) by PayPal. Limited time offer for new users. Cashback will be credited within 5 days of transaction. T&C
Looking for a place to buy all your products and gift for your loved and dear ones? Finding the right present for your people can get a bit tricky. It is not advisable to go around your local market looking for the best and most perfect one for your friends and family. There is always a smart solution to that. Find everything you will ever need to get your loved ones happy during every festive season and occasion. Get all kinds of products from a vast range of categories with the gift cards by Big Bazaar, an established and trusted brand. Get the best offers on Big Bazaar gift vouchers through GrabOn and save big too!
Big Bazaar Gift Voucher
type
value
you pay
savings
₹100

₹100

--

buy now
₹250

₹250

--

buy now
₹500

₹500

--

buy now
₹1000

₹1000

--

buy now
About Brand
FAQs
terms & conditions
Big Bazaar Gift Cards FTW
Arguably the most popular chain of hypermarkets, Big Bazaar offers everything you need, ranging from clothes & electronics, grocery to dairy. Who doesn't like stocking up their kitchen with pretty products and a lot of snacks? Gift your friends and family Big Bazaar Gift Vouchers and help them get all the necessary things for the party they've been planning for a while. Sounds great? Buy Big Bazaar Gift Cards on GrabOn and save more on online purchases.
Celebrate Diwali With Big Bazaar Gift Cards!
The biggest festival in India is undoubtedly Diwali. Not only is this festival full of celebrations but it is also a time where more than half of the country is busy buying things for their loved ones. And Big Bazaar has always been the destination for many when it comes to daily and seasonal purchases. Be it clothes or groceries, they sell everything. So, why not gift someone a GrabOn Gift Card this Diwali, and ensure they have unlimited freedom when it comes to purchasing something of their choice!
Buy a Huge Range of Products with Big Bazaar Gift Vouchers
It's a perfect gift for people who don't like to hop store to store in search of products. For a friend getting married, this present will be perfect as they will be able to buy everything from home decor to apparels and groceries, all at the same time. Make them happy by giving them the liberty to purchase everything under one roof. Imagine the ease of loading the cart with veggies and lipstick at the same time, that's the kind of comfort your friends deserve! Give them a Gift Card and see them experiencing joy!
Best Deals And Discounts Only @GrabOn
Remember the time when you got presents that were a total waste? Well, don't make that mistake with your friends! Give them the Big Bazaar Gift Card and they'll be amazed at how handy the present will be. Big Bazaar Vouchers makes it a little easier for everyone to stock up the shelves while they're on the go. They can save big on grocery shopping and more. Apart from offering handy gift cards, GrabOn also provides the best deals & discounts on Big Bazaar. Shop with Big Bazaar offers from GrabOn and save big every time you shop!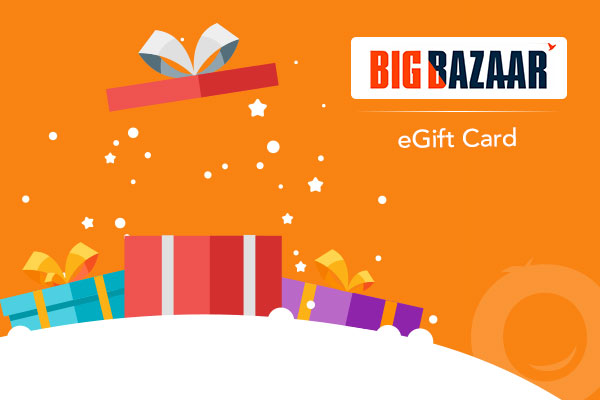 One eGift Voucher, Multiple Benefits
Wanna become the best buddy? Gift your dearest pals an eGift Card from Big Bazaar. The flexibility that it offers is unmatched. One can use a Big Bazaar Gift Voucher at all the Big Bazaar zone outlets, be it Big Bazaar, Food Bazaar, eZone or FBB. It makes for a useful and practical gift as they can be used anytime till the date of validity and can also be clubbed with other ongoing discounts. The cherry on the cake is that the receiver gets to choose what they want, not settle for what's given to them. The Cards are available for denominations from Rs 100/- to Rs 1000/-.
1. Can I Use Big Bazaar gift card online?
You can buy Big Bazaar Gift Cards online. However, you cannot use them online. One can redeem their Big Bazar eGift Cards only at Big Bazaar stores. It needs to be redeemed for the full amount. Partially redemption and exchange of cards for cash/credits are not allowed.
2. How do I redeem my big bazaar gift voucher?
Redeeming is easy.
Once you've selected the items that you want to purchase, go to the billing counter and provide your gift/egift card to the billing staff.
The money will be deducted from the card upon display
+ read more
Big Bazaar Gift Card FAQs
1. Why Big Bazaar Gift Card?
Gift cards can be given as a present on a particular day. With the Big Bazaar gift voucher, one can purchase products across various categories. You are shopping for grocery, home needs, day-to-day requirements, and whatnot. Big Bazaar has it all. Give your close ones the card and let them buy what the like.
2. How do I buy a Big Bazaar Gift Card?
To purchase your card:
Visit: https://www.grabon.in/giftcards/big-bazaar-gift-vouchers/
Select the type of card for the desired occasion.
Enter the denomination and the recipient details.
Write a customized message and preview.
Proceed and select payment option. Pay and complete your transaction.
You will receive a confirmation mail at your provided email ID.
3. What are the types of Big Bazaar Gift Card available?
There are two types of cards available, namely E-card and physical. It can be bought for special occasions, be it for a family gathering, corporate occasions, or group dining events. Big Bazaar offers customized gift vouchers for every time.
4. How will I receive my Gift Card(s) after purchase?
You'll receive your card in your email within 24 hours from the time we receive your payment. The e-Gift Card will be sent to the recipient email address provided by you, and if you have opted for a physical card, then it will reach the recipient's address as mentioned by you.
5. How do I use my Big Bazaar Gift Card?
You can redeem by using it on the Big Bazaar website. To use your card, apply the code and the corresponding PIN during your checkout payment process. Your card can be redeemed against any purchase made on the Big Bazaar website or for in-store purchases.
6. If I cancel my purchase or booking what happens to the Gift Card that I have used?
In such an event, you will receive back the value of the returned item. The balance will be credited back to your card. If you have any further queries, mail us at giftcards@grabon.in or call us at 7670823502.
+ read more
This E Gift card can be used in all Big Bazaar/ Food Bazaar & FBB Stores across India.
This E Gift card has to be redeemed in full and partial redemption is not allowed.
This E Gift card is not redeemable for cash or credit nor can be exchanged for a gift card/gift card.
This E Gift card can be used in all Big Bazaar/ Food Bazaar & FBB Stores across India. This E Gift card has to be redeemed in full and partial redemption is not allowed. This E Gift card is not redeemable for cash or credit nor can be exchanged for a gift card/gift card. If the Customer misplaces the E-gift card company shall not be responsible to reimburse/refund.
E Gift card is valid for a period of 12 Months from its date of issue.
Validity period of this E Gift card will not be extended under any circumstances.
Note: A convenience fee might apply on the purchase at the payment gateway.
+ read more