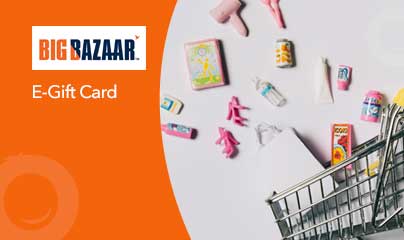 Big Bazaar Gift Card
6 Gifting Options
1 Active Offer
i
Big Bazaar Gift Cards Info
Ongoing Gift Card Offers
Purchase giftcard using PayPal & get 50% cashback (Maximum cash back Rs. 100) by PayPal. Limited time offer for new users. Cashback will be credited within 5 days of transaction. T&C
Looking for a place to buy all your products and gift for your loved and dear ones? Finding the right gift for your people can get a bit tricky. It is not advisable to go around your local market looking for the best and most perfect gift for your friends and family. There is always a smart solution to that. Find everything you will ever need to get your loved ones happy during every festive season and occasion. Get all kinds of products from a huge range of categories with the Gift Cards by Big Bazaar, an established and trusted brand. Get the best offers on Big Bazaar Gift Cards through GrabOn and save big too!
Big Bazaar Gift Voucher
type
value
you pay
savings
₹100

₹100

--

buy now
₹250

₹250

--

buy now
₹500

₹500

--

buy now
₹1000

₹1000

--

buy now
₹2500

₹2500

--

buy now
₹5000

₹5000

--

buy now
About Brand
FAQs
terms & conditions
About Big Bazaar
Arguably the most popular chain of hypermarkets, discount department store, and grocery store in India, Big Bazaar offers everything you need ranging from clothes, home needs, online grocery shopping, fruits and vegetables, products price list, personal care, kids utilities, apparel and much more. Founded by Kishore Biyani under the parent organisation Future Group. With its inception in 2001, it soon rose to housing 250+ stores in 120 cities and towns very quickly. It does not only operate in large cities such Hyderabad, Bangalore, NCR, Mumbai, Ahmedabad, Kerala, Pune, Chennai, and Delhi but also in smaller cities such as Jaipur, Kolkata, Dehradun, Bihar, Assam, Odisha, Kanpur, Ludhiana.
A Huge Range Of Products
Big Bazaar offers its customers a wide range of great products across different verticals, starting from dairy essentials to home needs, lifestyle, kitchen products and daily essentials, grocery and much more. You can get pretty much everything here, from your everyday needs to the fancy stuff. Why not gift your loved one something they can always use? This festive season or anniversary get your beloved a Big Bazaar Gift Card which will allow them to buy whatever they need be it kitchen essentials or daily grocery. This is extremely useful and very practical. Something everyone would like!
Gift Something Valuable To Your Friends And Family Big Bazaar offers you with products that hold value in everyone's day to day lives. You can't ignore the necessities and needs, can you? Then why not gift your loved ones a Gift Card that will enable them to spend it as per their own requirements, need or wishes. Imagine you're in the middle of a chore, say washing your dishes and suddenly run out of dishwashing liquid, what would be better than a refill? Or, say you're out on a picnic with friends and realize that you haven't got enough paper plates and cups; would there be anything more precious than some supply of disposable cutlery? Well, these are the times when 'A friend in need is a friend indeed' comes to mind. Now, you can be that helpful friend and get your pals and family members Big Bazaar e-Gift Cards. That way they can get whatever they require and whenever.
Big Range At Big Bazaar
From home cleaning requirements like detergents to kitchen essentials like kitchenware, plasticware for storing and carrying food, all the way to stationary and toilet & floor cleaners are available at Big Bazaar. You can also find accessories required for travel & trips, snacks and grocery such as biscuits, baked goods, flour, masala and spices, oil and instant and ready to eat food. Get the best quality condiments like salt, sugar, sauces, jellies and jams, cereals and more right here at Big Bazaar. You can also buy exotic vegetables, as well as indigenous fruits & Vegetables, along with dairy products and beverages like aerated drinks, tea, coffee etc. Personal hygiene and health care items such as cosmetic, shampoo, deodorant, perfume, shaving kit etc. are also readily available, such is the range and variety of goods available at Big Bazaar!
Best Deals And Discounts Only @GrabOn
Get the right gift for your people. Give them the Big Bazaar Gift Card and they'll be amazed at how handy the gift will be. Everyone goes through the grunt work that is everyday life and during that, needs daily groceries. Big Bazaar Gift Card makes it a little easier for everyone to stock up the shelves while they're on the go. Get your loved one's gift voucher for Big Bazaar and they can save big on grocery shopping and more. Apart from offering handy Gift Cards, we also provide the best and latest deals & discounts on Big Bazaar. Shop with Big Bazaar offers from GrabOn and save big every time you shop!
Quick Delivery
One of the reasons buying gifts online is gaining such popularity is how little of your time it consumes. It cuts down on the time you'd have spend traveling from one store to another, dealing with uncooperative or under qualified service, etc. However, you don't discover the downside until after the purchase, in the form of delivery time. While the promised delivery date can be quite long already, the actual delivery is subject to change based on various other factors. Shopping for a big bazaar gift voucher, is both quick & easy to buy and reach the recipient! GrabOn ensure your big bazaar gift cards reach within 30 minutes!
Simple Shopping With Big Bazaar Gift Card Offers
Online shopping portals can often get carried away in an effort to improve user experience and add multiple filters, panels, terms & conditions and much more. When you buy a big bazaar gift card with GrabOn though, the process is strictly no nonsense, and keeps it to a few basic steps. Find your big bazaar gift card offers online at GrabOn, choose the amount, pick a receiver, and pay. That simple!
Better Safe Than Sorry!
One of the major reasons Indians still haven't embraced online shopping with open arms continues to be the fear of misuse of their credit card, wallet, or other online payment methods. Considering the high risks involved in the possibility of your online payment information reaching the wrong hands, it is a reasonable fear too. From clearing out your bank balance, to involving your identity in illegal purchases, the possibilities are endless and scary. Rest assured, as when you purchase your bigbazaar vouchers with GrabOn, we ensure your details are secure by adopting the Secure Sockets Layer (SSL) protocol.
Seamless Payments & Transactions
It is often easy to add multiple verification steps, and carry out the payment in multiple different pages In the process of establishing safety protocols,. However, this complicates the process, and increase chances of errors and denial for payments. GrabOn's SSL protocol keeps your information safe without compromising on the ease of use or time spent when you gift your loved ones a big bazaar gift voucher 250.
+ read more
Big Bazaar Gift Card FAQs
1. What does the Big Bazaar Gift Card do?
Gift cards can be given as present on a special day. With the big bazaar gift card, one can purchase products across various categories. Shopping for grocery, home needs, day-to-day requirements and what not. Big bazaar has it all. Give your close ones the Big Bazaar Gift card and let them buy what the like.
2. How do I buy Big Bazaar Gift Card?
To purchase your Big Bazaar gift card:
Visit: https://www.grabon.in/big-bazaar-gift-cards/
Select the type of gift card for the desired occasion.
Enter the denomination and the recipient details.
Write a customized message and preview the Gift Card.
Proceed and select payment option. Pay and complete your transaction.
You will receive a confirmation mail at your provided email ID.
3. Till when is my Big Bazaar Gift Card valid?
Please refer to the terms and conditions to know the validity of your gift card
4. What are the types of Big Bazaar Gift Card available?
There are two types of gift cards available. E- card and physical gift cards. Gift cards can be bought for special occasions, be it for family gathering, corporate occasion or group dining events. Big Bazaar offers customized gift cards for every occasion.
5. How will I receive my Gift Card(s) after purchase?
You'll receive your Big Bazaar gift card in your email within 24 hours from the time we receive your payment. The e-Gift Card will be sent to the recipient email address provided by you and if you have opted for a physical gift card, then it will reach the recipient's address as mentioned by you.
6. How can I redeem my Big Bazaar Gift Card?
You can redeem your gift card by using it on the Big Bazaar website. To use your gift card, simply apply the gift card code and the corresponding PIN during your checkout payment process. Your card can be redeemed against any purchase made on the Big Bazaar website or for in-store purchases. The gift card has to be redeemed in full and no partial redemption is allowed.
7. Can I use my gift card on the Big Bazaar mobile app?
Yes, you can use the gift card on the app as the merchant does provide services over their mobile app.
8. Can I use multiple Gift Card during one purchase?
No. You can only use one gift card during one transaction.
9. What happens if the transaction amount is lower than the balance in my Gift Card?
You have to redeem the gift card in full. No partial redemption is allowed.
10. If I cancel my purchase or booking what happens to the Gift Card that I have used?
In such an event, you will receive back the value of the returned item. The balance will be credited back to your gift card.
11. Upon applying my Gift Card the transaction failed. But the amount has been deducted. What do I do?
In such a case reach out to us as soon as possible and we will look into the matter and revert accordingly.
12. What are the customer support details?
Drop us a mail at giftcards@grabon.in or call us at 7997692233 and our team will get back to you.
+ read more
This E Gift card can be used in all Big Bazaar/ Food Bazaar & FBB Stores across India.
This E Gift card has to be redeemed in full and partial redemption is not allowed.
This E Gift card is not redeemable for cash or credit nor can be exchanged for a gift card/gift card.
This E Gift card can be used in all Big Bazaar/ Food Bazaar & FBB Stores across India. This E Gift card has to be redeemed in full and partial redemption is not allowed. This E Gift card is not redeemable for cash or credit nor can be exchanged for a gift card/gift card. If the Customer misplaces the E-gift card company shall not be responsible to reimburse/refund.
E Gift card is valid for a period of 12 Months from its date of issue.
Validity period of this E Gift card will not be extended under any circumstances.
Note: A convenience fee might apply on the purchase at the payment gateway.
+ read more