FLAT 90% Off On Ethnicpark Maroon Brasso Saree
go back to

Paytm Deals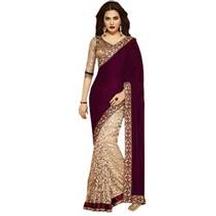 Paytm
FLAT 90% Off On Ethnicpark Maroon Brasso Saree
Lay your hands on this beautiful saree that will give you a grand look. Saree that can make an occasion more happening with its rich colors and design. One of those attires that intends to not just look grandeur but also lets you carry it with ease. All this for just Rs. 859. Hurry up! Grab yours. Now! This brasso fabric maroon saree will not only look elegant but also royal on you. N ow you can wear this saree at wedding, events and elite parties. Brasso is a very rich fabric and can vary in velvet and chiffon. It has a very wispy, soft texture and burnt-out look. It is another kind of cotton that goes under process to make it look shiny and soft. This saree will attract many eye to you if you wear to any party or event. Get ready to gorge on many compliments but don't forget to tell them where you got the saree from. Buy it from Paytm today to avail discounts.
Product Description
Get a complete makeover with this gorgeous saree that promises to grab all the attention. This saree has been designed to give you a more rich experience. The maroon and golden color combination blends together really well. This embroided saree is not just beautiful to look at but also very convenient and easy to handle as well. The weight is just about perfect for any rookie to the saree experts to flaunt them. The blouse piece is also available with the saree itself. So that you do not have to go for mix and matching. The quality of material is of high class. This saree is in a league of its own. Not gold or silver but this piece of beauty alone is enough for one to make any women out their jealous.
Check out more such product deals and Paytm Coupons available on fashionwear for women.
Specifications:
Outfit: Saree
Gender: Female
Color: Maroon
Wash: Dry clean
<
More Fashion Product Deals