Get 10% OFF On Whirlpool Magicook Elite Microwave
go back to

Paytm Electronics Deals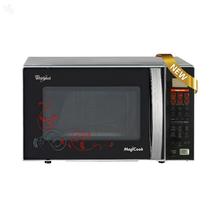 Paytm Electronics
Get 10% OFF On Whirlpool Magicook Elite Microwave
Looking to buy the best brand microwave but at a low price? Here is you chance to get best brands electronics at amazing discounts. Now buy Whirlpool Magicook Elite microwave and get Flat 10% OFF only at Paytm. Get this products today from Paytm Electronics and enjoy this super offer today. Whirlpool a renowned brand for best electronics for your home, kitchen and more. This Magicook Elite microwave will help you make lip-smacking dishes and bring out the chef in you. Now you can grab awesome gadgets, electronics and appliances from Paytm page. And you can buy all this at such low prices that you won't believe them. Paytm is always offering quality product to all its customers at bestest price possible. This online shopping website will give you all the products you have looking for all around web. And you won't be disappointed because they give away amazing cashback offers that you can't say no to.
Product Description
Are you into cooking and want to bake everyday for your loved ones and family? Or are you someone who is always trying new dishes at home but needs a microwave to get to another level? Here is you chance to buy branded microwave over at almost half of its price. Paytm presents Whirlpool Magicook Elite Microwave 20L convection at 10% discount. So now you can buy this same product for just Rs 10,590. So let go of this super crazy deal and get this now. Below are its features.
Features:
Brand - Whirlpool
Model - Magicook 20L Elite
Color - Silver
Type - Convection
Capacity - 20L
Control Type - Feather Touch
Power consumption - 800 W
Pre-set Cook Modes - Grill Combi Mode, Convection Combi Mode
Cavity Type - Stainless Steel
Dimension - 7.68 x 12.4 x 12.8 inches
Weight - 14.4 kgs
So get this microwave convection oven now at just Rs 10,590 and enjoy the savings by buying something else from Paytm. Rush Now!