Product Deals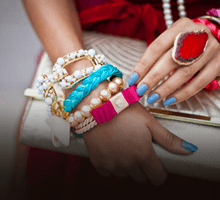 Fashion Accessories Deals Of The Day
Fashion can never be complete without accessories. Being fashionable doesn't simply mean wearing a piece of trendy clothing. It also includes various accessories that complete the look. But then, buying accessories definitely costs you extra bucks. Here are deals to make it easier to stick to budget shopping, when it comes to accessories. Grab these exclusive accessory deals and shop more, to your heart's content. These offers get updated every day, so keep a watch. These discounts can be on anything, be it shoes, perfumes, deodorants, belts, beauty products or bags and shoes. Check this space every day so that you never miss out on a good offer.
All About Fashion
Fashion doesn't mean only about the apparels, but it is also about the accessories which complement with the apparels which you wear. There is a huge list which falls under fashion accessories category like watches, wallets, handbags, sunglasses, perfumes and lot more. Fashion accessories keep you updated with the current trends as the fashion will be evolving and changing regularly. In simple terms, these products draw most of the attention of people apart from your attire. Buying these will not cost you a bomb as the fashion accessories deals which are listed on this page makes your purchase worthy.
Lots Of Choices
A good pair of earrings paired with a pretty dress makes you stand out of the crowd. It is always the shoes which grab the attention of the people, the more it looks good the smarter you are. For men, perfumes, belts, shoes, wallets, bags are main accessories that enhance their look. No one likes the body odor which is a turn off so, to avoid those embarrassing situations use a good deodorant or a perfume. These keeps you fresh whole day and energetic. Various online portals like Amazon, eBay, Flipkart, Jabong, Myntra and Tata CLiQ offers raining discounts on fashion accessories. So, what are you waiting for? Choose the ones which suit you and use fashion accessories coupons which are available here.