Nibbles Dog Biscuits @ Rs. 92 Only
go back to

DogSpot Deals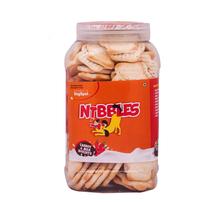 DogSpot
Nibbles Dog Biscuits @ Rs. 92 Only
Verified Today. A sizzling offer for your pets is right here at Dogspot.in, where you could grab a straight 500 gm biscuit box for just Rs. 92. An absolutely delicious plus a nutritious diet for the one you adore a ton. These milk biscuits would only make your pet active, with a lead to satisfaction from your end. So hustle to snatch the deal.
Product Description
A healthy, heavy bargain to render the pets at home fit, which is a heavenly thought grown in your hearts towards those who simply crave for biscuits. And when it directs to Nibbles Dog Biscuits, these are lip-smacking and churn a hint of nutrition to dog's diet. Nutrition, how? These biscuits contain milk plus an added variety to it which favors all taste-buds- 'carrots'. But hold on pet lovers, this is just a mere commencement to the taste offered to you. A flat 20% discount is also on the cards for your pockets to sustain well and save up for the other prodigious deals from Dogspot's corner. For further reductions and affordability to comfort you, GrabOn gets a hand at such amaze.
Brand - Nibbles
Main Ingredients - Carrots and milk
Types - Veg and Non-veg
Life Stage - Adult
Advantages - Calcium provides stronger bones, Vitamins provides growth and development
Suitable for: All Breeds
Pet lovers, its time to take care of your pets in the best way possible. And what can be better then giving them right amount of supplements in their daily food intake. So grab this super high on vitamins and calcium biscuits for your dogs today. Pamper your dogs with the best fog food possible and buy at DogSpot every day. You get quality, quantity and prices so low that you won't believe it. So if you love your dog then get this deal today. Rush now!
More DogSpot Product Deals