Bike Face Mask + Stylish Skull Jaw Bandana + Pollution Mask @ 60% OFF
go back to

Snapdeal Deals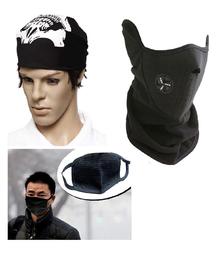 Snapdeal
Bike Face Mask + Stylish Skull Jaw Bandana + Pollution Mask @ 60% OFF
Now riding gets easier with these super awesome accessories - face mask, skull-jaw bandana and pollution mask - all at flat 60% off. What more could you ask for! For all bike riders who are worried to ride bike because of pollution and dust/wind - Snapdeal offers this amazing product that will help ignite the biking passion in you again even in this summer. Not only this but you will also get funky bandana and a pollution mask with this deal. So grab this today and enjoy this 60% off on all these products. These products have 100% quality and they will guarantee work for more than year. You can clean them with water and soap. Now no more worry of getting unwanted diseases or germs in your system because these protective items will keep you save forever. Just grab this deal and buy your bike accessories before this offer runs out.
Product Description
Are you tired of riding bike because of extremely polluted environment? Stuck at the signal and traffic jams irritates you the most because of so much polluted air? You can get rid of these problems if you buy this face mask + bandana + pollution mask, all-in-one. Now do more than just commuting from one place to another but enjoy that as well. These qualitative items can be used by both male and female riders and will save them not only from pollution but also other easily transmittable diseases. This is also good to keep your save from sun and rain during such tough seasons.
Hard circumstances can push you to change your commuting preferences. Because a biker will love riding bike any given day and not go buy a car. So don't let this pollution get to your head and buy protective items to get you through this hard riding issues.