Product Deals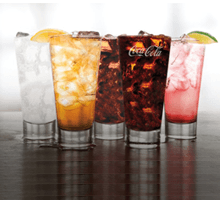 Beverages Deals Of The Day
Nothing beats an icy cold beverage on a really hot day or any day for that matter! Long day at work? Relax, have a cola and turn on the TV. Ordered a cheesy pizza? How about a coca cola to wash it down? Cold beverages have been the highlight of many a boring party, made college reunions fun and birthday parties a tad bit more interesting. With online food delivery services like Foodpanda, Swiggy, and Faasos, ordering a beverage of your choice has never been easier. Soda based Coca-Cola, Thumbs Up or fresh juice, your pick. Choose what you want and get it delivered to your doorsteps. While you're ordering a pizza from Dominos or grabbing a burger from McDonalds, get the beverage of your choice home delivered. With GrabOn you can celebrate your love for beverages with beverages deals of the day, be it a weekday or the weekend!
Summers Are All About Icy Cold Beverages What's the first thing that comes to your mind when I say, Summer? Outdoor games, fun, camping and cold drinks. Staying hydrated is very important come summers and what better way to chill than consuming some good old cold beverage. Cool down with fresh fruit juices or beat the summer heat with fizzy cola. Whatever it is you choose will be delivered to your doorsteps by the popular beverage and food stores the likes of Swiggy and Foodpanda.
Great Deals On Cold Beverages GrabOn brings you the best deals on cold beverages. You can avail these awesome deals by ordering online through different food and beverage portals. Now, enjoy your drink while we get you the best offers, discounts, and deals from across the internet. We do all the hard work in curating the best possible deals so that you can relax, sit back and enjoy your beverage at a discounted price.