Product Deals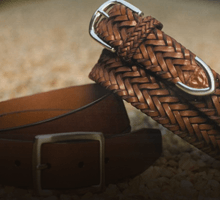 Belts Deals Of The Day
The belt is the best partner for you when you tuck in your shirt with a formal pant. This gives a defined look for the whole outfit which makes you stand apart from the crowd. Leather belts come in various textures and with classy buckles which look neat and tidy look. Even with jeans and casual shirts, these belts can be worn. Basically, these give support to pants to avoid embarrassing situations. Use belts deals that are displayed on this page for great discounts.
Belts - The go to accessory for one and all
Belts are the mist have accessory to have in the closet, be it a man or a woman and even kids. This accessory helps you add a definition to the look. Tuck in your shirt and add a belt to complete the formal look. If you have kurti that don't fit you well and is quite loose, team it with a palazzo and use a belt to cinch the waist. This would make the ill-fitting kurti look good in less than a minute. So, get yourself a belt or more if you want.
Grab some good offers on belts
Be it a formal belt or a casual one, be it a cotton one or a leather based one, you can get one and all in all the online shopping sites. You can also get it from various known brands such as UCB, Levis and so on. However, if you want to save a few extra bucks on belts, it would be necessary for you to use the belt deals listed on this page. These deals get updated from time to time and are time sensitive as well. So, grab these before they are gone.