Regenerating Tonic Lotion @ 10% OFF
go back to

Beauty Deals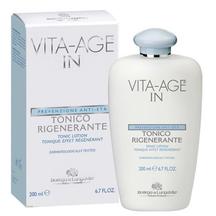 Beauty
Regenerating Tonic Lotion @ 10% OFF
Its time to snatch a thunderous deal by getting this awesome Vita-age In Regenerating Tonic Lotion. This skin regenerating tonic is dermatologically tested and is safe for your skin tone and face. This is refreshingly limited offer, and if you think you need to pay a bomb for this then think again. You can get this for just Rs. 1071.

To indulge in a radiation filled outcome, all you have to do is apply this lotion. Beauty is important and if it comes at such a less price then you just grab it. So don't just think upon, purchase your dream, as its just a click away.
Product Description
What you always fancy for, a beautiful radiant reflect to the skin which often indulges dullness, is finally in front of you, waiting for it to rekindle all skins. This fabulously coated lotion produced by Vintage In is an innovative texture which re-grows your skin from a lazy, dusty atmosphere, to a magnetic outlook. And that's why it's called a Regenerating Tonic. You'd bewilder over the capacity issues as the lotion is just a 200ml pack, but its time to litter the worries away, because just a pinch is required for the skin to illuminate your surroundings. Pack your seat belts tight beautiful young ladies, because this merchandise is for a flat 10% off, crashing it to a decent Rs. 1071 for you to shine again. For an exquisite deal further, browse through GrabOn for the same.
Brand - Vintage In
Capacity - 200ml
Main ingredient - Regenerating tonic
Advantages & Usage:
Vita-age Lotion is the best way to cleanse your skin because it has linden tree, hamamelis and blue bottle distilled water that boosts vitality of your skin. It also have natural ingredients that refreshes skin and acts as a regenerating component. Just massage this lotion on your skin gently so that it cleanses your skin completely.
More Beauty Product Deals