Power Play Sneakers For Rs 498
go back to

Footwear Deals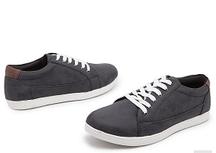 Footwear
Power Play Sneakers For Rs 498
This deal has been verified. Now you can buy branded Power Play Sneakers for just Rs 498 only at Fashionara. These sneakers are available colors brown, green, red, blue and many more. You can try out shoes with different laces as well to pep up your look. This is the best deal on branded sneakers from Dickies that you can grab now. Sneakers like these should be there on every guy's wishlist as these will make you look uber cool and trendy as well.

These shoes are of good quality and are made of quality cotton. You can use them for anything, be it a cool party or college or office dress-down or any casual outing. They look smart on anyone who know how to carry sneakers. So get this sneakers at just Rs 498 only at Fashionara.
Product Description
Power play sneakers lets you stay agile and nimble footed. It's the pair of sneakers you always wanted which truly matches your fast paced lifestyle. You need to have these must-have sneakers in your wardrobe so that you can look more dapper. The power play sneakers is not your extra special delicate shoes but they are rough and tough, and will not wear down in the regular wear and tear. So try these on today and see how people will start complimenting you. Get all the attraction you want by trying out some unusual colors and going with the same old black and white. Below are some of its features that you can read:
Fit - Regular fit
Size - Find all sizes in US standards
Upper body - Made of cotton and twill canvas
Sole - Made of vulcanized rubber (lightweight)
Color - Grey and white (as shown in the figure)
Metal eyelets for lace
Slip resistance sole
Soft cushioned foot bed
You can use this shoes for trekking, climbing and more such adventurous sport and it won't give away. Don't waste time anymore and grab this deal today. Get expensive branded shoes for just Rs 498.
More Footwear Product Deals