Get 49% Off On Ambrane Power Bank P-1000

go back to

Paytm Deals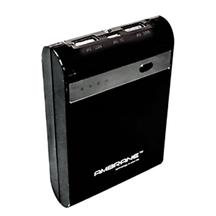 Paytm
Get 49% Off On Ambrane Power Bank P-1000
Don't let your gadgets run out of power, buy a portable charger from Ambrane P-1000 (10400mAh). Paytm offers flat 49% off on this product. What are you waiting for? Make this incredible compact, portable charger yours for just Rs 1010.

Now you can charge your phone from anywhere and anytime. What's more? You can charge more than phone at a time with this power bank. So you get the best deal at the best price possible so then why wait for any other discounts? Just grab this one now before even this goes out of stock. There is brand and product warranty with this one. If you don't like the product then you can return it as well and replace it with some other product.
Product Description
This portable USB power bank is compatible with a variety of gadgets such as iPhones, various smartphones - Samsung Galaxy, OnePlus One, HTC Desire, Sony, Nokia Lumia, Micromax Canvas, Lenovo, Asus, OnePlus Two, Moto G series and more. This power can also charge your tablets, MP3 players and a range of USB gadgets. So try out this super cool gadget accessories now and make use of all the benefits. Buy this compatible charger today and avoid any upset moments because of low battery by charging your gadget even on the go. Here are some of the specifications of this product:
Brand: Ambrane
Color: Black
Battery Capacity: 10400 mAh
LED Indicator: Yes
Weight: 250g
You can grab the code now and get set to buy this Ambrane Power Bank at the lowest price possible. You won't get this type of deal on any other power bank but on this one. So hurry grab this one before its too late. Now enjoy every moment without worrying about your battery issues or dead battery.
More Mobile Accessories Product Deals