Flat 31% Discount On Kenstar Oxy Of-Koa15cj3 3 l Air Fryer
go back to

Paytm Electronics Deals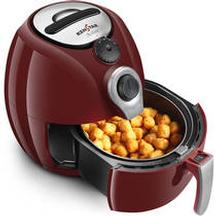 Paytm Electronics
Flat 31% Discount On Kenstar Oxy Of-Koa15cj3 3 l Air Fryer
Have a healthy life by eating healthy. And start from eating non-fried stuff by using air fryer everyday. Try out Kenstar Oxy OF-KOA15CJ3 3L Air Fryer. Buy this amazing kitchen appliance brought to you by Paytm for just Rs 7598. Get this super healthy product for your kitchen today and start cooking smartly. No need to buy fry stuff from shops and make extra oily starters at your home. Just use Kenstar air fryer and have equally crispy, tastier and oil-free starters. Bring in this awesome kitchen appliances today and grab this amazing discount.

Now you can buy this product at flat 30% off and get it for Rs 7598. So you save more than Rs 3000 that you can use to buy some other cool appliance for your kitchen. You can get this product at such a low price only at Paytm Electronics. Find heavy cashbacks only at this online store. Grab this deal now before the product stocks run out and learn new way of frying.
Product Description
Cut down on your use of unhealthy oil in food everyday by using this easy-to-cook air fryer. Find a better way to fry your food with Kenstar Air Fryer that you can now buy at the best price possible. Buy this product from Paytm Electronics and save almost Rs 3000 on this purchase. This is your deal for the day. So go shop now.
This product helps you cook with ease and in-style. And it also comes with impressive creation and helps in cooking a variety of fried dishes. Also Kenstar is a known brand for kitchen appliances and always offers the best looking and quality products for many years. This air fryer not cooks well but looks stylish as well. Here are some specifications of this product:

Brand: Kenstar
Color: Red
Type: Air fryer
Capacity: 3L
Power Consumption: 1500 W
Warranty - 1-year Manufacturer Warranty
More Electronics Product Deals