20% Off On Luxury Cars (Bangalore And Pune)
go back to

ZoomCar Deals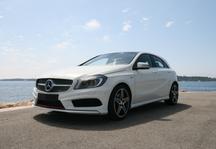 ZoomCar
20% Off On Luxury Cars (Bangalore And Pune)
Treat yourself to a sumptuous ride on Fridays and save flat 20%
ZoomCar presents the most lavish range cars, having been selected for their top class performance, status and brand. If you're looking to commandeer an occasion, be it a board conference, meeting, life event or precisely any big-time moment, here you will find luxury vehicles to hire ranging from Mercedes A-Class, BMW 3 Series to Mercedes GLA-Class, and wheel around with high-style.

Choose from a wide range of Zoom self drive cars -- all exclusively chosen to ensure the luxury and perfect drive on every Friday. Get flat 20% off on car hire. This limited time offer is valid only in Bangalore and Pune. Take advantage of this offer today by activating this deal.
More ZoomCar Product Deals